Some years ago the NBA was flipped upside down when Clippers owner Donald Sterling was exposed by his girlfriend as a racist who fetishized naked NBA players as they were showering. In a sad case of Deja Vu the NBA is now caught in a similar controversy involving Suns owner Robert Sarver. The allegations against him are even worse than what Donald Sterling was doing in many peoples' opinions.
Is Robert Sarver Gay? Leaked Documents Expose Suns Owner Robert Sarver as Racist Who Was Prejudice Against Women and Inappropriate Physical Conduct with Men
According to a report from Shams Charania the NBA has suspended Suns owner Robert Sarver for one year after reviewing the findings of an internal investigation. In addition they have fined him $10 Million dollars, and stipulated that he must complete a training program that focuses on respect and appropriate workplace conduct. Leaked details about the investigation revealed that Robert Sarver was doing myriad of racist, inappropriate, and other offensive things that made the Suns workplace a toxic environment for both men and women.
According to reports Robert Sarver used the N-word racial slur during conversations, made explicit comments about female workers, had inappropriate physical conduct towards men in some manner, and treated his employees harshly. Some people think that the accusations of what he did to men could be proof that Robert Sarver is gay on the downlow, which is interesting because he in the past worked with two openly gay NBA executives in Ryan Resch and Rick Welts who is Suns former CEO, and currently an executive advisor for the Warriors. However, the details on his inappropriate physical conduct with men was not described in depth, so the context of the accusation is completely evident. Take a look at some tweets detailing the things that got Robert Sarver suspended for one year.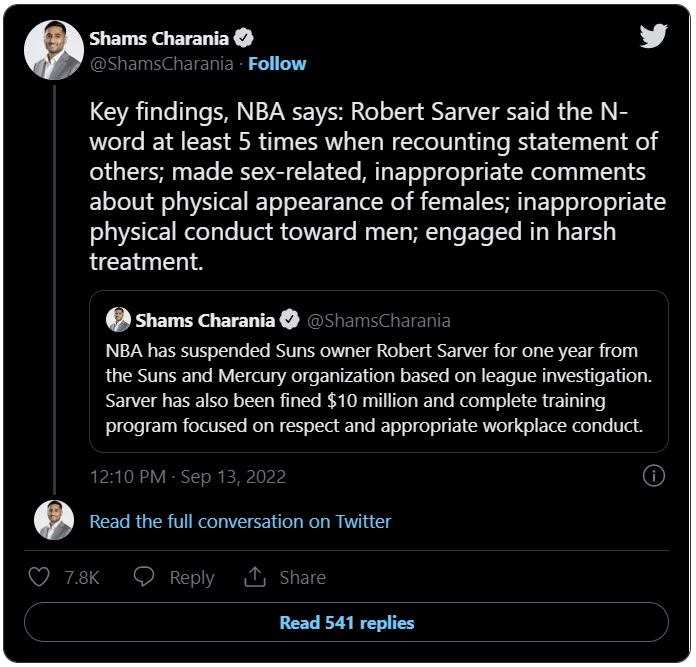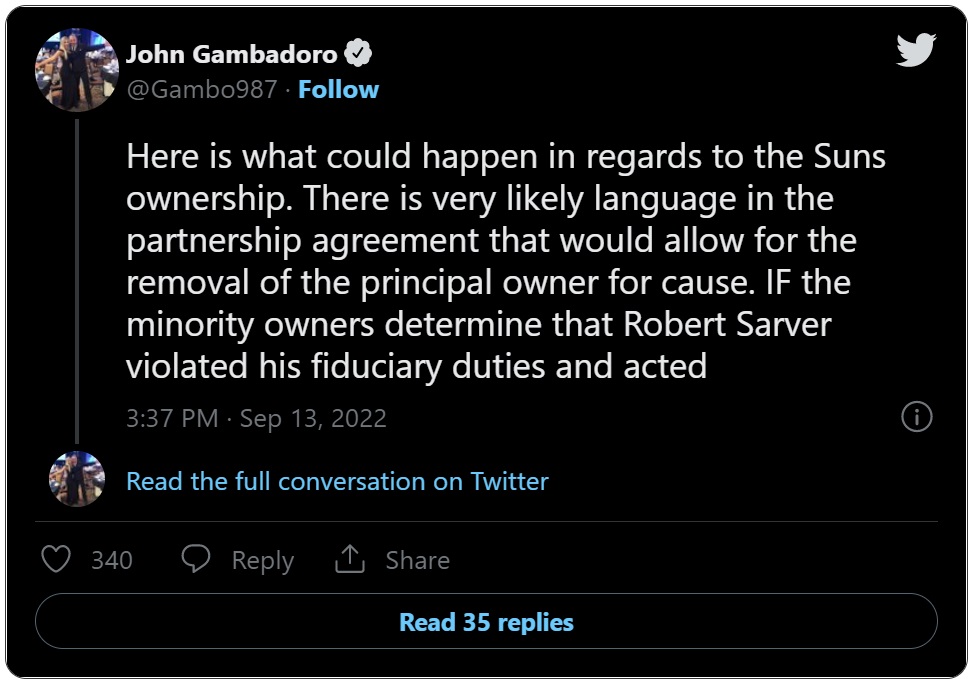 Some people are not happy that the NBA only suspended Robert Sarver instead of banning him forever similar to Donald Sterling. Apparently the bank Robert Sarver founded made him quit his position as a board member, which was a much harsher and more permanent punishment than what NBA handed down.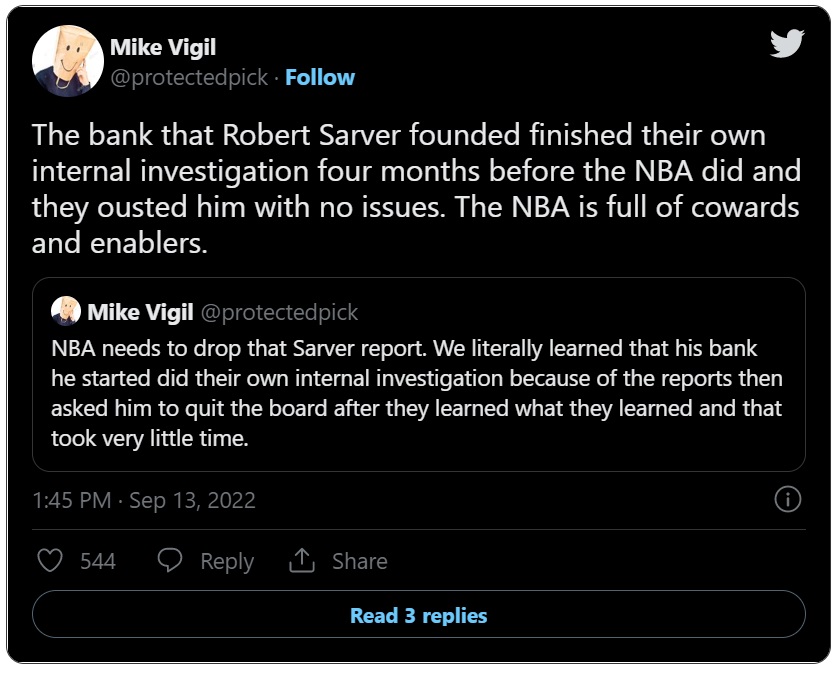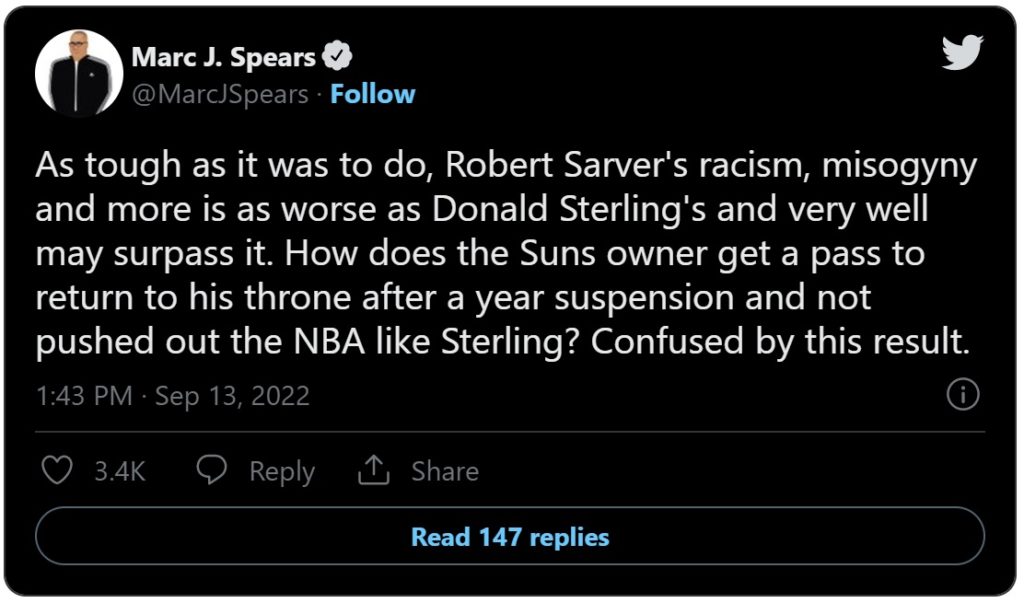 Full Details About Robert Sarver's Suspension from the NBA and WNBA
Leak documents state that Robert Sarver cannot be present at any NBA of WNBA facility, which includes office, arena, and practice areas. He cannot attend any NBA or WNBA events or activities, which includes games, practices, and business partner endeavors. He also cannot represent the Suns or Mercury in anyway whether private or public, and is permitted from any business or basketball operations involving the two franchises. Lastly he is banned from being involved in business, governance, or activities involving the NBA or WNBA, which includes board meetings. His $10 Million dollar fine which will be donated to charity was the maximum allowed under the NBA Constitution and By-Laws.
Of course the big question here is will the NBA actually allow him to return after 1 year like none of this happened? Presumably there will be massive protests if that happens.
For Chris Paul this must be Deja Vu, because this makes the second racist NBA owner he played for during his career. It must be tough knowing that you were unknowingly trying to help two racist owners win a championship.