When Lebron James and his wife Savannah were filmed playing a round of Madden NFL, the internet quickly went crazy. The video showed Savannah attempting to talk to her husband while he was deeply focused on the game, seemingly ignoring her. Gamers around the world related to the video, and started posting memes and jokes about Lebron's lack of response.
The video garnered millions of views and reactions from both gamers, and non-gamers alike. Social media users were quick to point out the stark contrast between Lebron's intense focus on the game, and the distractions his wife Savannah was trying to bring. Many gamers could relate to Lebron, and how he was so focused on the game that he completely ignored his wife.
This video of Lebron has become a symbol for how focused gamers can get when they are playing a game they enjoy. Many women can relate to the frustration that Savannah felt when Lebron ignored her as she attempted to distract him. With gaming becoming increasingly more popular, the video created a conversation about the importance of balancing gaming with relationships, even though in general it seems Lebron does a pretty good job of that.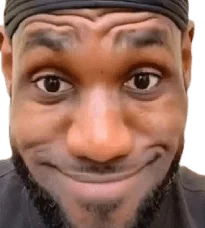 It seems like every man will have a moment like this at some point in their life when they have a special lady with them. This is especially true when it comes to NBA 2k, but Madden can have that effect too.
The funniest part about the clip is that it looked like Lebron was playing against the CPU. For many gamers sports games are only fun when playing online against other real people.