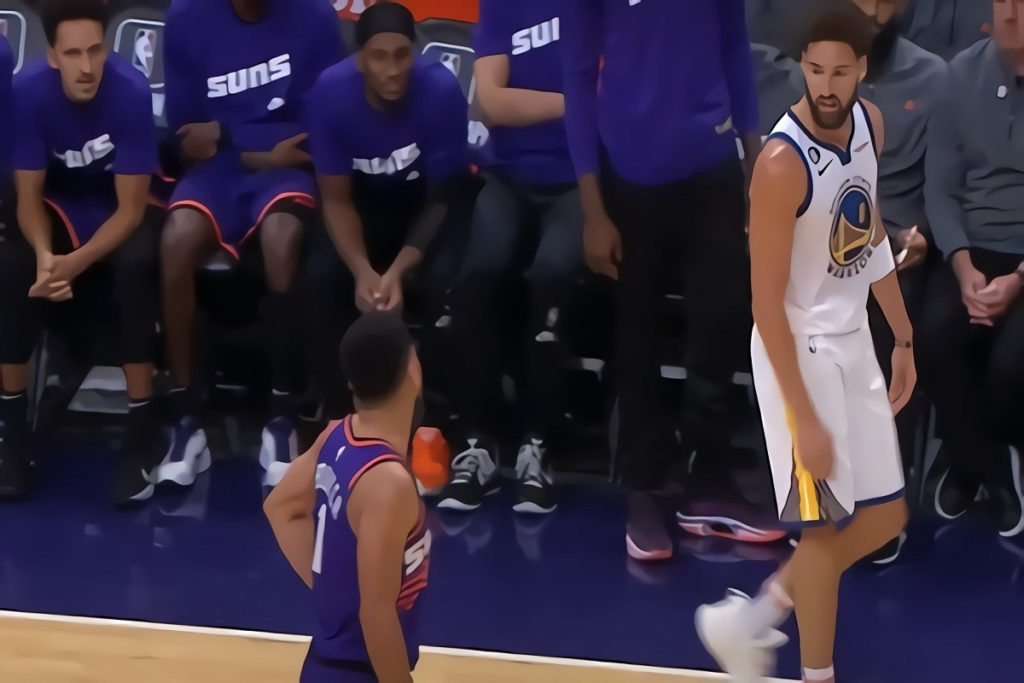 Klay Thompson is usually a mellow player on the court who always seems to be even keeled. Even the style of basketball he plays can be described that way. He's never going too fast or too slow, and always gets to his shooting pockets efficiently. However, during Warriors' matchup with Suns something Devin Booker really pushed a button that had him out of character.
What did Devin Booker Say to Klay Thompson Before Their Verbal Fight?
Around the 7 minute mark of the third quarter the game was close with Suns holding a 5 point lead 81-76. Warriors were in the midst of a spurt of incredible defense compounded by Klay Thompson stripping Devin Booker's jump shot attempt. After that play words were exchanged as the two superstars followed each other around the court. Eventually their hostile interaction led to Klay Thompson trying to fight Devin Booker chest bumping him seemingly ready to throw hands before people intervened. This got Klay Thompson ejected from the game, and he had a few words for the Phoenix Suns bench on his way to the locker room. Candace Parker said it sounded like Klay Thompson said, "I got 4 rings. You're doing all that talking, let's see when it's time".
Devin Booker Reacts to Klay Thompson Trying to Fight Him and Phoenix Suns Bench Then Getting Ejected
After the win was secured for the Phoenix Suns Devin Booker said he looks up to Klay Thompson, and even wanted to be him. He seemingly made it clear that there's no beef between them, and the words he said was just competitive nature within the game. He didn't go into the detail about what he told Klay Thompson to make him so angry.
There was once a time when Luka Doncic told the world 'Everyone talks tough when they're up". He was referencing how Devin Booker was mocking him when Suns were up during Mavericks' last loss of the series. Of course we all know how that ended for the Suns as Dallas eventually advanced to the Western Conference Finals. Could Booker's altercation with Klay Thompson be another instance of him allegedly talking tough when he's up?