Miami Heat star Jimmy Butler is known for his fierce competitiveness and his relentless work ethic on the court, but he also has a playful side that he likes to show off at the team's media day. For the second year in a row, Butler surprised everyone with a dramatic change in his hairstyle. Now people are wondering if this time he was channeling the legendary soul singer James Brown.
Was Jimmy Butler's Permed Hair Paying Homage to James Brown's Hairstyle at 2023 Heat Media Day?
Butler appeared at the Kaseya Center on Monday with his hair permed and parted to the side, resembling Brown's signature look from the 1970s. He also wore piercings on his nose and eyebrow. Some people wondered if his new look was a reflection of his emotional state and his love for music.
Butler's hairstyle quickly went viral on social media, with many fans and media members comparing him to Brown and other celebrities. Some praised his creativity and sense of humor, while others questioned his fashion choices and sanity.
This is not the first time that Butler has made headlines with his media day hairstyle. Last year, he showed up with weave dreadlocks that he cut off shortly after the event, forcing the NBA to use an outdated photo of him for the rest of the season. People thought he was paying homage to Brittney Griner.
"Nobody does media day like Jimmy Butler does media day," the Heat's official Twitter account posted.
Jimmy Butler looks like James Brown with his new permed hairstyle. Take a look at them side by side.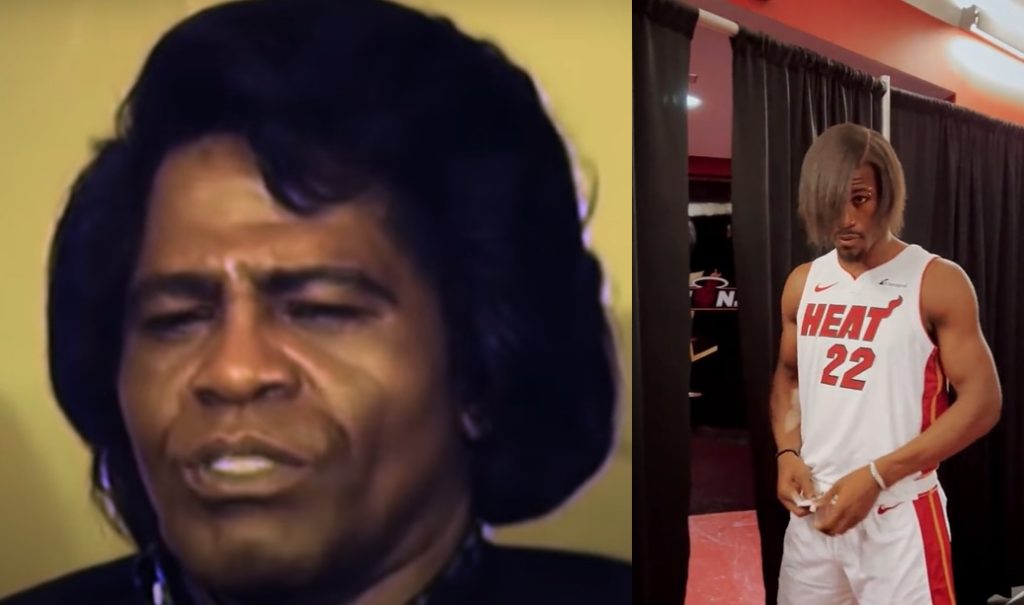 Could Jimmy Butler's Permed Hair at Heat Media Day Be a Sign of Frustration?
Some people feel that Butler's permed hairstyle could also be a sign of his frustration with the Heat's inability to acquire a superstar teammate for him. The Heat were reportedly one of the teams interested in trading for Damian Lillard, who was unhappy with the Portland Trail Blazers' direction. However, Lillard was traded to the Milwaukee Bucks last week in a blockbuster three-team deal that also involved the Phoenix Suns.
The Heat failed to match the Bucks' offer of Jrue Holiday, an unprotected 2029 first-round pick and two pick swaps, as well as the Suns' offer of Deandre Ayton and Toumani Camara. The Heat only had players like Tyler Herro, Duncan Robinson as their main trade assets, which were not enough to entice the Blazers.
Butler expressed his displeasure with the trade on social media, posting a video of him asking the NBA to investigate the deal for tampering. He also said that he still believes that the Heat can win the championship this year, despite losing to the Nuggets in the Finals last season.
The Heat will open their regular season on Oct. 25 against the Detroit Pistons. Whether Butler will keep his James Brown permed hairstyle or change it again remains to be seen.