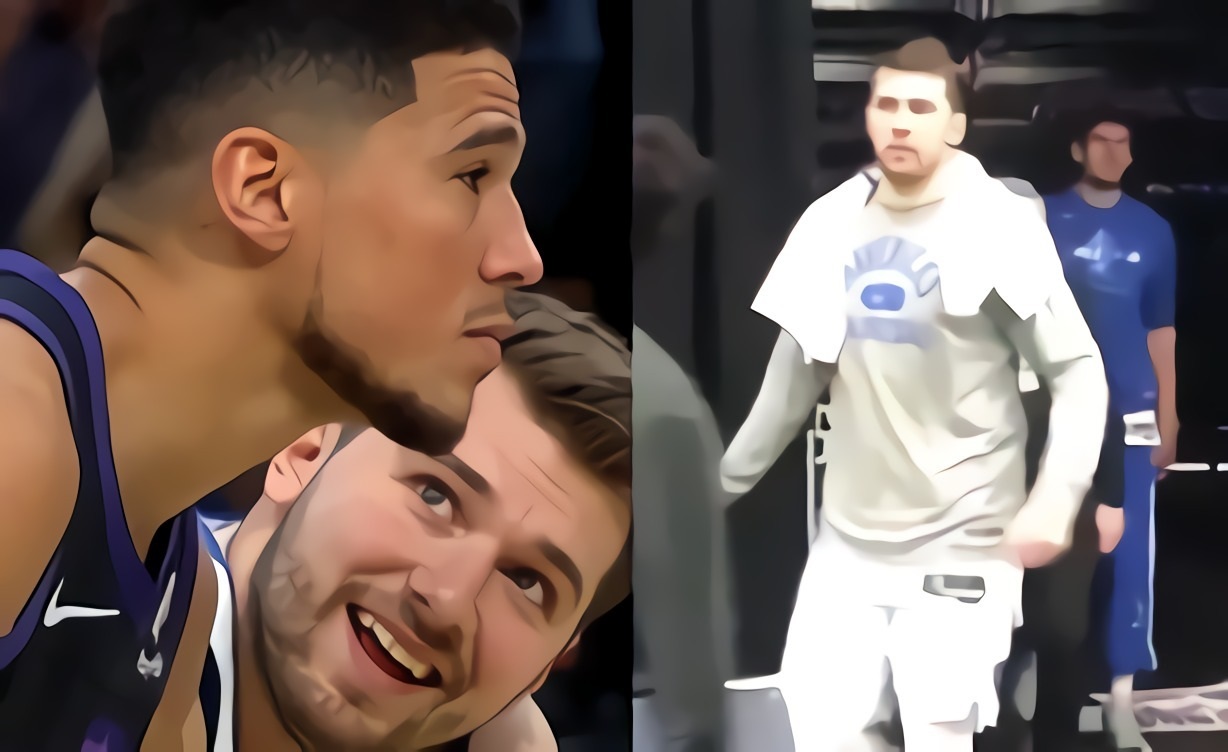 By now we have all learned that Devin Booker has an extremely arrogant and cocky attitude on the court, which of course he backs up with his offensive production. It became most apparent during Suns' battles with the Lakers the past two seasons. With him and Luka Doncic in the limelight with their playoff matchup, his trash talking is reaching peak status again, which led to a viral moment in Suns Game 5 win.
Is Devin Booker Jealous of Luka Doncic? Devin Booker's 'Luka Special' Luka Doncic Mock Goes Viral
We all know that Luka Doncic wines and complains a bit too much during games. Sometimes he literally looks like a big cry baby on the court. Nevertheless he is by far the best player in the Western Conference playoffs right now, and is clearly a better overall player than Devin Booker despite being 2 years younger. Considering they play the same position, it's easy to tell that Devin Booker want to prove he's the better player, which he has failed to do so far.
In Game 5 with Suns having the upper hand Devin Booker's supreme trash talking to skills targeted Luka Doncic. After taking a hard foul Devin Booker stayed on the ground a long time pretending he was hurt. It became apparent that he was mocking Luka Doncic when Devin Booker said 'Luka Special' to a fan before laughing at his acting. Devin Booker was mocking Luka Doncic flopping and complaining during games.
Luka Doncic Responds to Devin Booker Mocking Him
After the game Luka Doncic reacted to Devin Booker mocking him with some bold comments as he was walking through the tunnel. Luka Doncic said 'Everybody acting tough when they up'. Basically he was calling Devin Booker a front runner tough guy. Some people believe that Devin Booker is jealous of Luka Doncic surpassing already as a better player already.
Luka Doncic finished Game 5 with 28 points, 11 rebounds, and only 2 assists. He would have had a higher assists number if Mavericks didn't miss so many wide open shots. Devin Booker finished the night 28 points, 7 rebounds, and 2 assists. Luckily for him he doesn't have to worry about orchestrating the offense, because Chris Paul who had 10 assists on the game is the floor general and leader of the Suns.
It's well known that should never give a player of Luka Doncic's caliber any type of emotional edge. With the way Devin Booker was mocking him the Suns may have done just that, and it could backfire. This series just got that much more interesting, get your popcorn ready.