Ja Morant, the Memphis Grizzlies point guard, was recently embroiled in two separate allegations of misconduct. The allegations have many on social media labeling the young star as a wannabe "thug", but more needs to be learned about what exactly happened before people pass judgement. In this article we'll go over all that is known about these accusations.
Details About the Ja Morant Finish Line Store Incident Involving His Mother and Mall Security
The first incident occurred at a mall where Morant's mother allegedly had a dispute with an employee at a Finish Line store. According to the source, upon arrival, Morant and the people that came with him were told to leave by the head of security, and they refused. This led to a "verbal confrontation" between Morant and the guard which escalated to one of Morant's associates pushing the security guard in the head. According to the police report, Morant then said "let me find out what time he gets off," making the guard feel "threatened". No arrests were made as a result of the altercation.
Details About the Allegations Involving Ja Morant Allegedly Pointing Gun at 17 Year Old Kid
The second incident allegedly occurred during a pickup basketball game at Morant's home in Memphis in July 2022. A 17-year-old boy allegedly filed a police report claiming that Morant punched him multiple times then pointed a gun at him. He and his mother later filed a lawsuit against Morant and another person alleged to have attacked him. Morant's agent denied all allegations of wrongdoing, and according to him, the incident was purely self-defense. After being fully investigated by law enforcement, no charges were filed and the existence of the suit is under seal.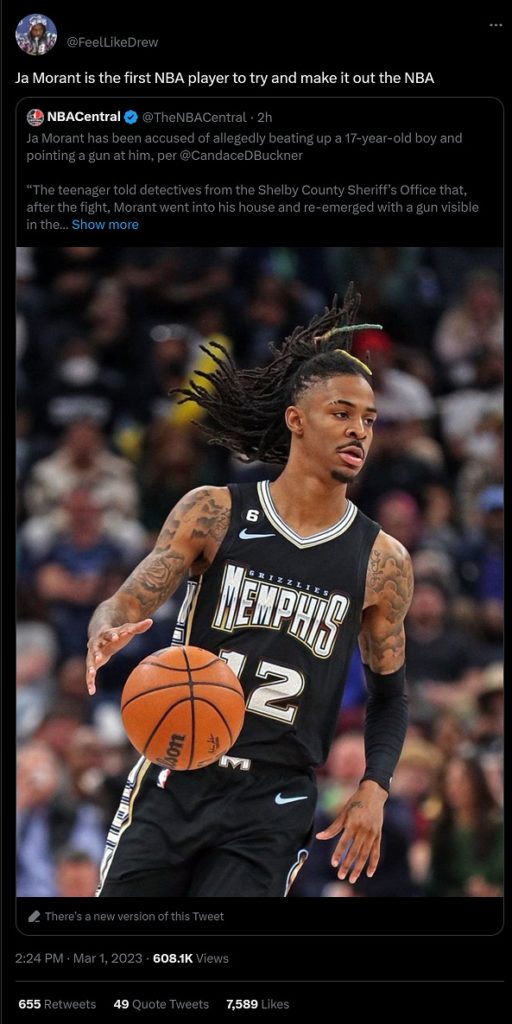 These allegations have not been proven in court and, as of the current time, there is no information available regarding any legal action taken against Ja Morant. It is important to remember that just because these incidents have not been proven in court, it does not necessarily mean that Morant is innocent.
It is possible that the allegations against him are true, and that he is yet to be held accountable for his actions. Nevertheless, it is also important to keep in mind that these incidents are still only allegations and should be treated as such.