The NBA world is reeling with sadness after the LaMelo Ball news, but one NBA players seems happy about what happened. D'Angelo Russell reacted to LaMelo Ball's broken wrist injury with a disrespectful tweet.
What Did D'Angelo Russell Tweet About LaMelo Ball's Fractured Wrist?
D'Angelo Russell dissed LaMelo Ball with a tweet referencing Anthony Edwards. In his message he said "Anthony Edwards Rookie of Year". He added a yawning emoji as if to say LaMelo Ball doesn't impress him. He waited until LaMelo Ball was seriously injured to tweet something like this. Talk about purposeful bad timing.

People React to D'Angelo Russell's Tweet About LaMelo Ball Broken Wrist Injury and Anthony Edwards Being Rookie of Year
Naturally people on social media were not happy with D'Angelo Russell kicking LaMelo Ball while he was down. They absolutely went in on him for it.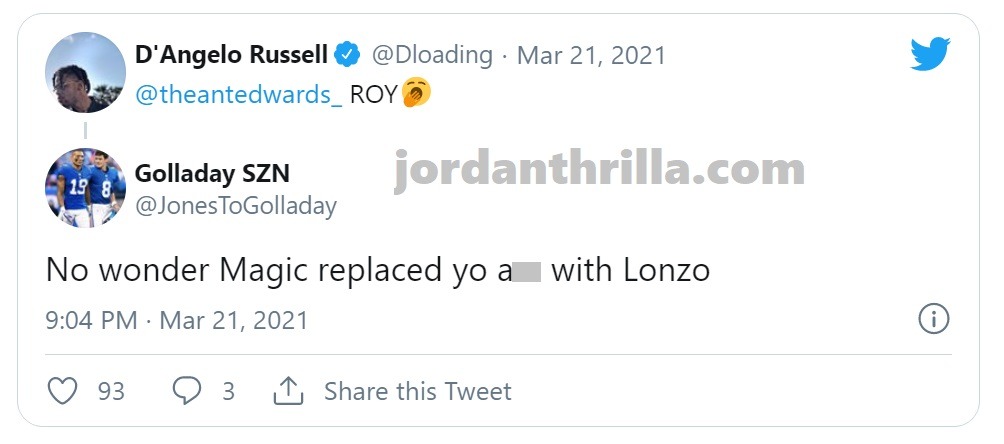 D'Angelo Russell is the king of saying the wrong things at the wrong time, and he continues to hold that crown with this incident.
Sure he might have been rooting for his teammate, but this isn't the way to do it. You can see video of LaMelo Ball's wrist injury here.
Author: JordanThrilla Staff