The day started with nothing but drama for Karl Anthony Towns, but he ended it with a major bang. Earlier in the day rumors start storming in Karl Anthony Towns cheated on Jordyn Woods. Alleged leaked Karl Anthony Towns text messages seemed to proved that he was. Jordyn Woods claimed they were fake, possibly trying to convince herself that they were.
Karl Anthony Towns Responds to Cheating on Jordyn Woods Rumors
In response to those rumors KAT released a statement that denied the rumors, and serenaded Jordyn Woods with love. In that message he called her the "baddest girl in the game". What stood out most was the revelation of Karl Anthony Towns getting married to Jordyn Woods.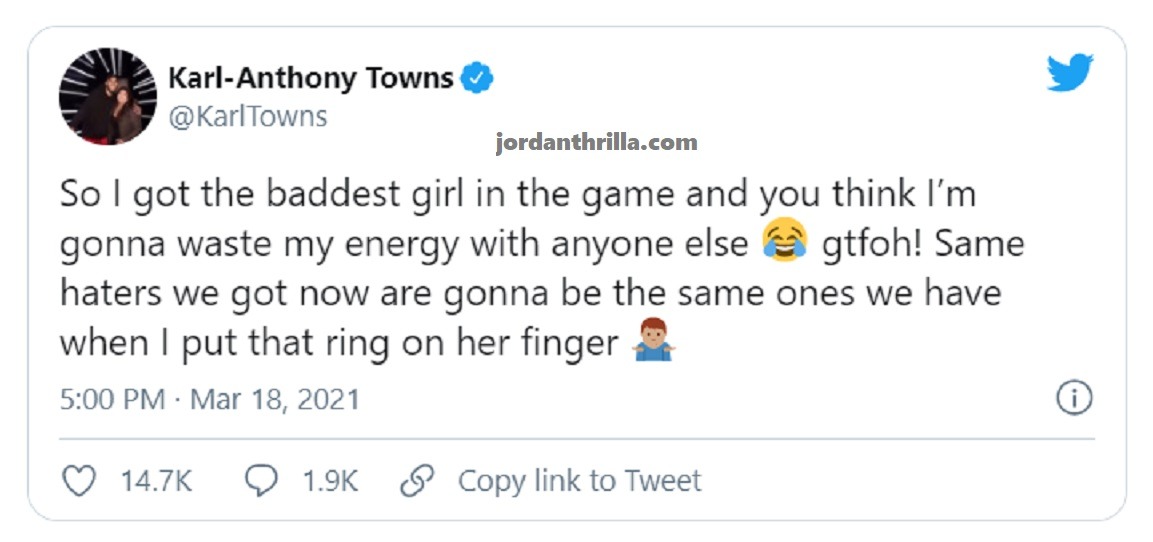 Later that day he had a career night scoring 41 points, 10 rebounds, and 8 assists in a win against the Suns. It's clear he was motivated by his haters on this night. He looked like man possessed out there.

One of the most incredible things about this game was that the rookie Anthony Edwards had 42 points as well. On this day they were like Jordan and Pippen out there, which is ironic because some people think Anthony Edwards is related to Michael Jordan. That's 83 points between the both of them.
Perhaps Timberwolves fans should accuse Karl Anthony Towns of cheating on Jordyn Woods more often (sarcasm).
Author: JordanThrilla