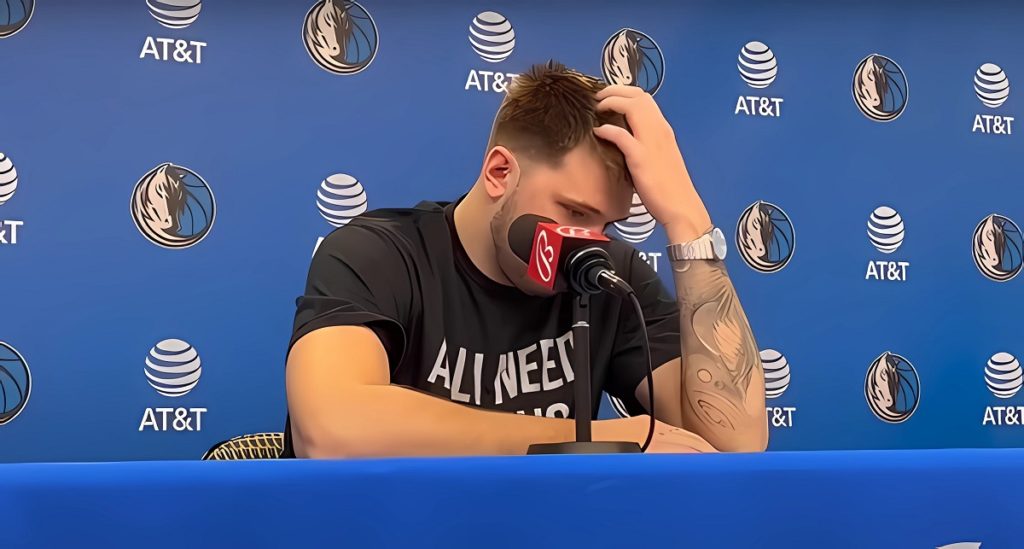 The Dallas Mavericks suffered their third consecutive loss on Wednesday night, falling to the Charlotte Hornets 109-117 at home. The defeat dropped the Mavs to 3-7 since acquiring Kyrie Irving from the Brooklyn Nets, and raised questions about the chemistry and fit of their star duo. It also seems that Luka Doncic could be battling depression for some reason that may not be basketball related.
Did Luka Doncic Diss Kyrie Irving Subliminally?
One of those questions came from Luka Doncic himself, who expressed his frustration and dissatisfaction in his postgame interview. The 23-year-old Slovenian, who had 34 points, 10 rebounds and eight assists in the loss, said he was not having fun on the court anymore.
"It's really frustrating. I think you can see it with me on the court. Sometimes I don't feel it's me. I'm just being out there, you know? I used to have really fun smiling on court, but it's just been so frustrating for a lot of reasons, not just basketball," Doncic said.
Some fans and analysts interpreted Doncic's words as a subtle jab at Irving, who joined the Mavs in a blockbuster trade that sent Dorian Finney-Smith, Spencer Dinwiddie, and two first-round picks to the Nets. Irving, a seven-time All-Star and NBA champion, was supposed to elevate the Mavs to title contention, but instead has struggled to mesh with Doncic and the rest of the team.
Irving is averaging 23.9 points, 5.1 rebounds and 5.6 assists per game with the Mavs, but his shooting percentages have dipped from his career norms. He is also shooting more than Doncic, taking 19.4 field goal attempts per game compared to Doncic's 18.8. Some observers have criticized Irving for being too ball-dominant and taking away from Doncic's playmaking abilities.
Irving has also been involved in some off-court controversies, such as missing games for personal reasons, clashing with the media and being fined for violating the NBA's health and safety protocols. However, he has been a model basketball citizen since joining the Mavs. Some fans have speculated that Doncic is unhappy with Irving's attitude and behavior, and that he misses his former teammates, especially Finney-Smith, who was one of his closest friends on the team.
Kyrie Irving Defends Himself While Responding to Being 3-7 and Dallas Fans Booing
During Mavericks' loss to Hornets the crowd began booing the team for their failures. Irving, for his part, defended himself and Doncic from the criticism and blamed the media for creating narratives and finger-pointing. He said he and Doncic are still learning how to play together, and that they are not the only ones responsible for the team's success or failure. This could be proof their relationship is still good.
"I mean, not really. I didn't imagine [this]," Irving said when asked if he expected this kind of start with the Mavs. "We are 3-7. But again, it's a team basketball game. As much as people want to put it on me and Luka, it's a team basketball game, and we talk about that in a locker room. Everyone wants to point the fingers at what we're doing, but it's a team aspect game".
Irving also pointed out that the Mavs have been competitive in most of their games and that their offense is not their main problem. He said their defense needs to improve and that they need to start games stronger.
Is Luka Doncic Battling Depression?
However, it is also possible that Doncic's frustration has nothing to do with Irving, and more to do with the team's overall performance and expectations. The Mavs entered the season as one of the favorites in the Western Conference, but have fallen to 11th place with a 36-38 record. They are currently out of the playoff picture, and face a tough schedule ahead.
Doncic may also be dealing with some personal issues that are affecting his mood and motivation. He did not elaborate on what those reasons are, but he did say that some of the things bothering him at not basketball related. Maybe Luka Doncic is just depressed, and figuring out how to handle it within himself.