One of the most controversial parts about NFL football is the amount of head injuries players sustain during games. Throughout the years the league has been called out for their lack of urgency surrounding player's brain health. In recent years NFL has changed many rules and protocols in an effort to help reduce incidents of CTE. A scary situation involving Miami Dolphins quarterback Tua Tagovailoa has refueled those conversations.
Tua Tagovailoa's Fingers Stiff in Fencing Response Position Looking Like Gang Signs after Head Injury Leads to People Calling out Miami Dolphins' Medical Staff
The past few weeks for Miami Dolphins' young quarterback has been nothing short of a nightmare health wise. The unlucky star sustained two head injuries in consecutive weeks, the later of which appeared to be extremely serious. On September 25 against the Bills a late hit sent his head crashing into the ground, which caused him to collapse when he tried walking it off. Naturally most people expected he would be out for their Thursday night game only 4 days later, but there he was in the lineup and he paid the ultimate price.
On play where he got sacked, Tua Tagovailoa's head crashed into the ground again during Dolphins matchup with the Bengals. One indication of a serious head injury is when body parts go stiff such as the arms and fingers, which in medical terms is called the "fencing response position". As you'll see below Tua Tagovailoa's fingers were stiff and twisted indicating he possibly suffered a traumatic brain injury. It literally looked like he was throwing up gang signs.
After he was taken off the field, it would later be reported he was transported to a Cincinnati hospital. Luckily it seems he might be okay, because latest reports are saying he will be discharged in the near future. However, the situation has people calling out Miami Dolphins medical staff for putting Tua Tagovailoa in a dangerous situation he shouldn't have been in.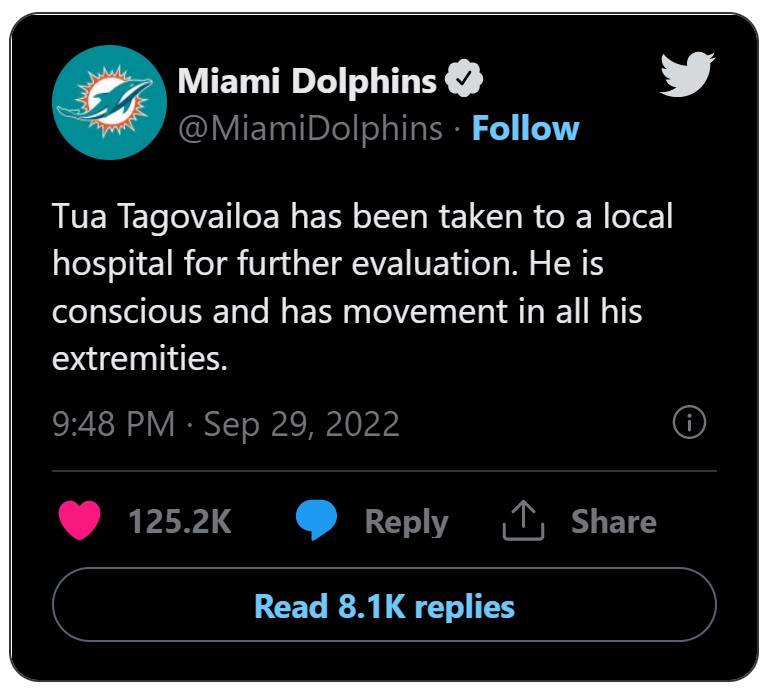 Why Were Tua Tagovailoa's Fingers and Arms in Fencing Response Position?
According to Healthline the 'Fencing Response Position' is related to the asymmetrical tonic neck reflex that happens with newborn babies. It's natural reflex controlled by the brainstem, which causes babies to extend their arms in a stiff manner involuntarily, which usually subsides after about 4 months old. Doctors believe people go into 'fencing response position' when the brainstem is rattled by a strong force, which temporarily reactivates ATNR response.
Considering how Tua Tagovailoa stiff fingers looked like gang signs it's a miracle he's already being discharged from the hospital. Hopefully he makes a full recovery, and is allowed adequate time to fully heal.