Yesterday the NBA world was rocked when Sixers traded Ben Simmons for James Harden. It was a trade most people thought wouldn't happen after Steve Nash adamantly claimed Nets wouldn't trade Harden. Since the trade happened Ben Simmons has been relatively quiet until today when his new jersey number was revealed.
Ben Simmons Reacts to Nets Trade Jersey Number by Paying Homage to 'Ben 10' Cartoon
In a viral IG post the Nets revealed Ben Simmons is wearing number 10. The number 25 he was previously wearing was retired by the Nets in honor of Bill Melchionni who played for the franchise from 1969-76. Ben Simmons reacted to his new 10 jersey number with a simple two word comment that went viral on social media.
Ben Simmons paid homage to the 'Ben 10' cartoon saying,
"Ben 10."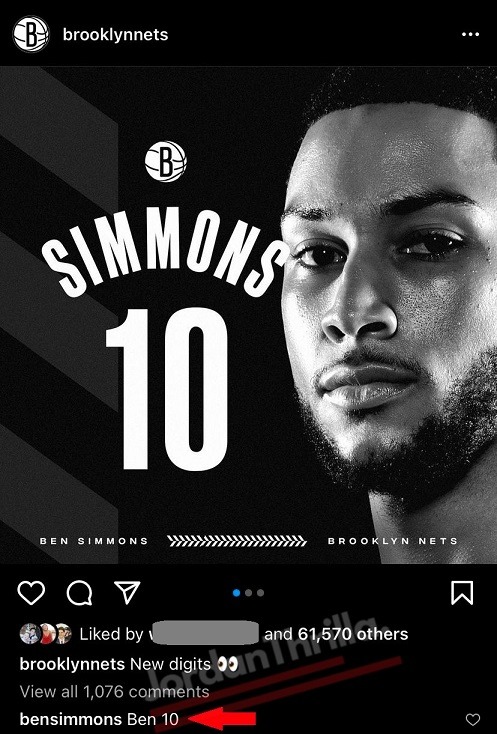 How Old Was Ben Simmons when 'Ben 10' Cartoon Came Out?
Ben 10 is a cartoon produced by Cartoon Network that first aired on the network in 2005 when Ben Simmons was only 8 years old. It's safe to he grew up watching this cartoon, and is big fan. The first episode of the show debuted on December 27, 2005 and was titled "And Then There Were 10". Take a look at a clip from that first episode that captivated young fans.
It seems like Ben Simmons is happy about his new team, but it remains to be seen how he will fit in Nets system. At the moment it really seems like the Nets downgraded from James Harden with this trade. Ben Simmons can't shoot jumpers, can't shoot free throws, and isn't that great at scoring in general.
Remember in the playoffs Kyrie Irving will miss at least 3 games from every series due to him not being able to play home games. That means Kevin Durant's second option scoring wise will be Seth Curry or Ben Simmons, rather than James Harden. That doesn't seem like enough to make the finals.