Kohl's is not usually the place you see selling rare highly coveted Nikes, but that all changed recently when people noticed a certain sneaker on their shelves. It's been confirmed that Kohls is selling Tom Sachs Nike shoes. When you look at the intricate details of their prices you'll realize it's quite the come up for some quick cash.
How You Can Make $90 or More Buying Tom Sachs Nike Shoes From Kohl's Stores
Tom Sachs' NikeCraft project showing up Kohl's is all part of a pledge to make the shoe more readily available to consumers. The sneaker's classy yet sporty design, along with those beautiful soles has made it a favorite by sneakerheads and casual shoe shoppers alike. Kohls announced they would be available at some of their stores with a message on IG saying "The NikeCraft General Purpose Shoe in the Archive Colorway is available in select Kohl's stores today".
The cool thing about Tom Sachs Nikes selling at Kohl's is that you can get them for $110, and based on photos they seem be stocking plenty of them. Considering these shoes currently resell for at least $200, you can easily make $90 or more by buying them from Kohl's then selling them at the higher price, which many people are willing to pay. If you buy a few pairs in a size many people wear you could make hundreds of dollars in theory. However, Kohl's has limit of 1 per customer, so you need to go different stores, or bring some friends with you to get more than one pair. Take a look at some posts from around social media.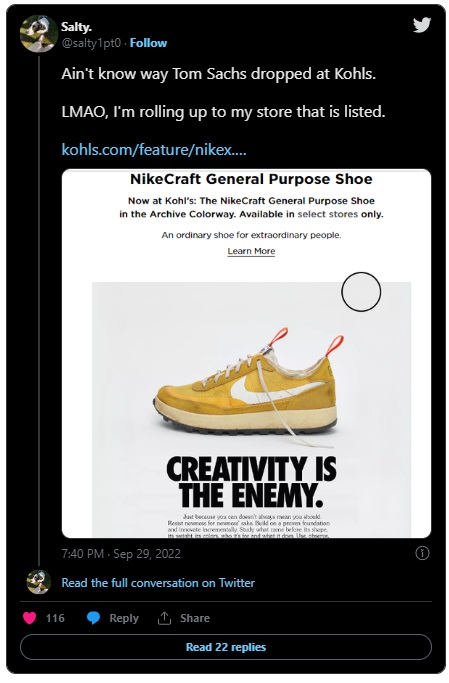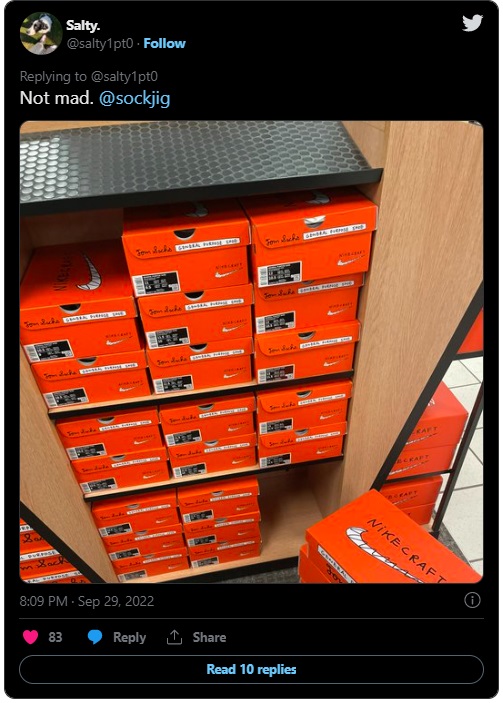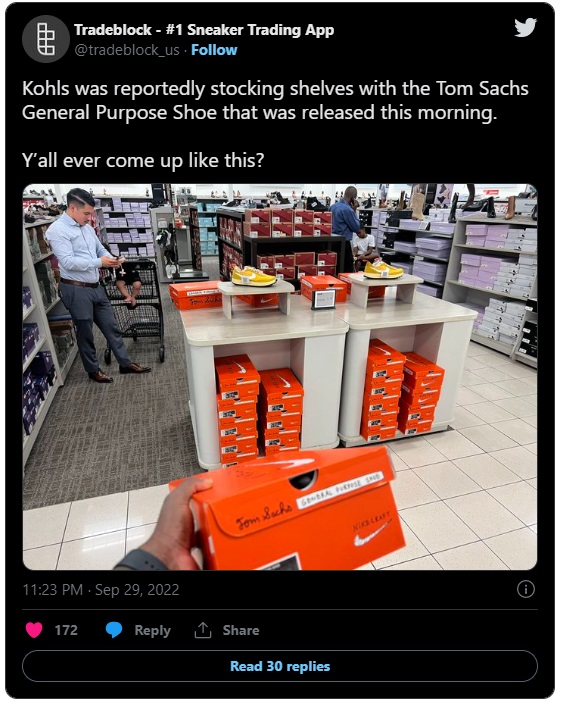 Usually when you find rare shoes like these at a budget price in a clothing department store it would be places like Ross or Marshalls, and mainly basketball shoes. Now Kohl's is entering the chat, but those Tom Sachs Nikes are selling out fast, so if you're itching to buy some you should call your local Kohl's to see if they might have some in stock before going. That's one beautiful looking shoe.