Is the Atlanta restaurant Le Bilboquet racist? In a viral tweet NBA legend Dominque Wilkins accused Le Bilboquet of turning him away because he is black. In his emotional message detailing the situation Dominque Wilkins claimed this was the first time he ever experienced racism from a restaurant.
In his full message Dominque Wilkins said he's been to many restaurants around the world, but it was only today that he got turned away due to the color of his skin. Le Bilboquet responded to Dominque Wilkins' claim of being turned of away because he is black by insinuating that it had nothing do with his skin color. Rather they talked about their alleged dress code the prohibits sweats pants and tops.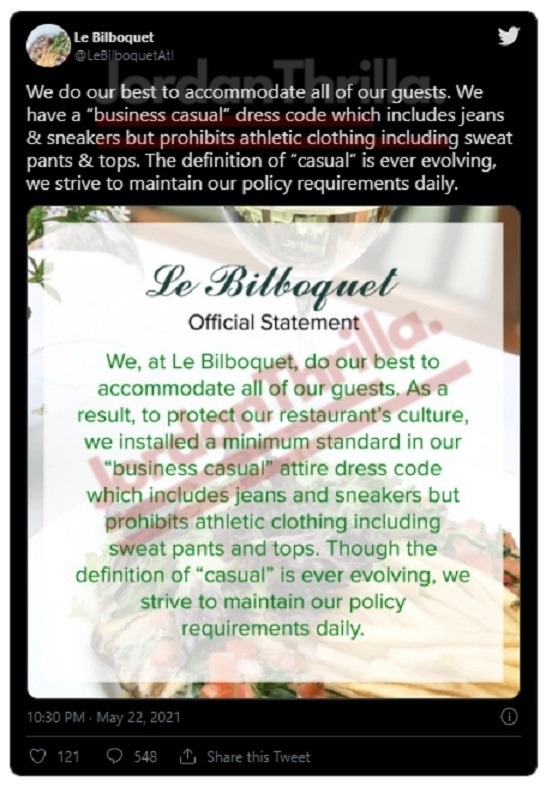 The big question here is what was Dominque Wilkins wearing when he attempted to eat at the restaurant? If he truly was wearing something prohibited by their dress code then you could argue that Le Bilboquet turned away Dominque Wilkins for a valid reason. Maybe he wasn't told it was due to a dress code violation when it happened. However, history tells that there is probably more to the story that would reveal he was wearing proper attire, which is could be why Dominque Wilkins exposed Le Bilboquet being racist toward him allegedly.
The saddest part about a possibly racist Atlanta restaurant turning away Dominque Wilkins is that he gave so much for the city during and after his NBA career. He should be able to wear whatever he wants to any restaurant in that city just off the strength of his legacy with the Hawks.
Author: JordanThrilla Staff