The world of the gaming and entertainment industry was rocked today by the tragic news of the passing of Annie Wersching, the actress and voice-over artist best known for her role in the critically acclaimed video game, The Last of Us. Following the news of her death, the hashtag #RIPAnnie quickly began trending on social media as people around the world reacted to her untimely passing.
Annie Wersching had a long and successful career in both the video game and film industries. She was a prolific voice-over artist, appearing in many video games throughout her career, including The Last of Us, in which she voiced the character of Tess. She was also a respected actress, appearing in various films and television shows throughout her career.
In The Last of Us video game Annie Wersching's character Tess was a key supporting character, and one of the main protagonists. Wersching brought a unique level of emotion and realism to the character. Tess is a brave, loyal, and resourceful survivor who joins forces with Joel and Ellie on their journey through the post-apocalyptic world. She is a well-rounded and complex character who is driven by her desire to survive and protect her family. Despite her tough exterior, she is a compassionate and caring person who will go to great lengths to protect those she loves.
Gaming Community Reacts to Annie Wersching aka Tess from 'Last of Us' Dead at Age 45
Annie Wersching's death is a tragic loss for the gaming community, and the hashtag "RIP Annie" has been trending on social media as people around the world pay tribute to her. Wersching's career was marked by her work in the gaming and entertainment industries, and her memory will live on in the hearts of millions of fans.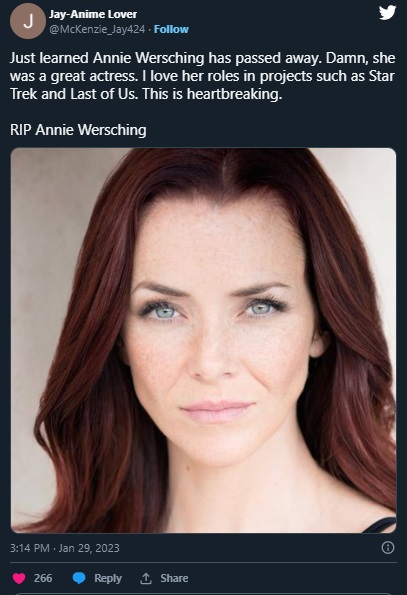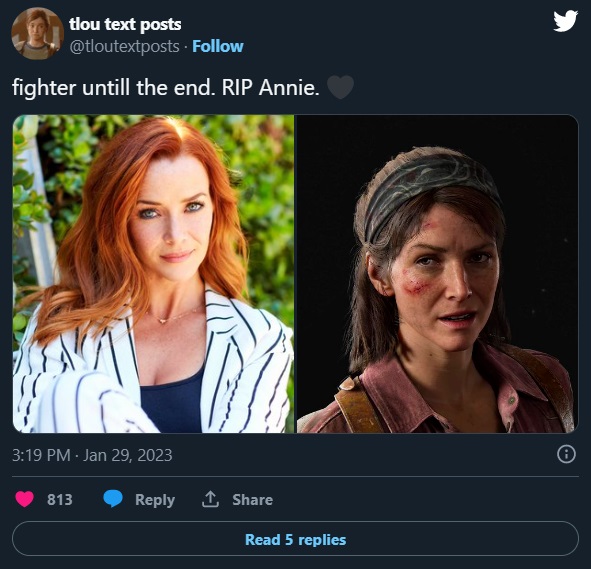 What Was Annie Wersching's Cause of Death?
Annie Wersching was a talented performer who made an indelible mark on the gaming and Hollywood industries. Her work in The Last of Us as Tess was an unforgettable performance, and a testament to her talent and skill as an actress and voice-over artist. Her legacy will live on in the hearts of her fans, and her memory will be cherished by all who knew and loved her. According to reports she died from cancer.