Tasmanian Police are warning anyone who may have a video tape involving intimate use of a trout to delete it, or risk battling legal action. This footage, allegedly shows a couple on a boat, and has been shared on a number of social media platforms. In the footage it's alleged that a woman does intimate acts with a trout species of fish, while another person appears to be watching.
One Woman in the Trout Video Threesome Tape was Identified as a Former Veterinarian at Kingston Animal Hospital
RSPCA Australia has issued an alert about the video, describing it as "depicting acts of depravity", and the police are now investigating the incident. The police have also encouraged anyone with the video to delete it immediately, as possession or distribution of this video would be a serious offense. While this case is happening in Australia, it's important to note that even the United States there are only 4 states where bestiality is legal, which include Hawaii, New Mexico, West Virginia, and Wyoming.
Recently one of the women in the trout video was identified as someone who used to work closely. with animals. In response to the controversy, the veterinary clinic in Kingston, Tasmania, which formerly employed one of the woman featured in the video, has released a statement on Facebook disassociating themselves from the incident. In their public statement they wrote, "It has come to my recent attention that an ex-employee of the hospital has recently been the subject of attention by appearing in a video that has been widely circulated on social media".
They continued, "Please understand that this person is no longer a paid employee. Please understand that this person is no longer a paid employee, has not worked at Kingston Animal Hospital for over 5 years, and over 10 years ago as a full-time employee. Any matter relating to disrespect or mistreatment of animals is condemned by all our staff and myself. This story and video are completely unrelated to all current staff".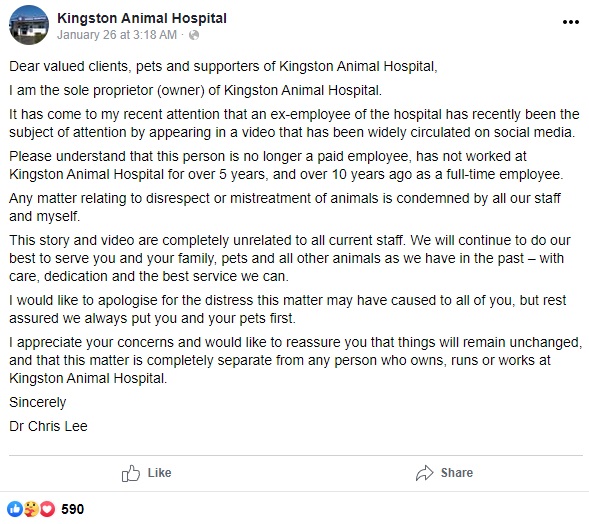 This case serves as an important reminder of the power of social media, and the responsibility that comes with its use. This horrifying Trout fish tape footage is already viral on Tiktok, Twitter, Reddit, and Instagram. Despite the police warnings it continues to be circulated, showing how fearless some social media users have become. It's tough to imagine why anyone would actually want to see this type of footage in the first place.
It's simply crazy we live in a time period where there are videos of people having a threesome with a trout. On social media the people in the video are now being dubbed as the "Trout Video Women". What's more crazy is one of the perpetrators is a woman who used to care for animals, which makes you wonder if any other animals were ever abused by her before this footage leaked.