Kyrie Irving was finally back in the lineup after missing 8 games due to a controversial suspension that has allegedly led to a brewing lawsuit from The Labor Organizers group. During the game Kyrie showed rust uncharacteristically losing his dribble at times, but still poured in 14 points helping Nets get a much needed win. After the game Kyrie showed how he will deal with reporters who try to bait him into more controversy.
How Kyrie Irving Shut Down a Reporter's Trick Question About IUIC Israel United In Christ Protesters Outside Barclays Center
If there was one alarming thing that many people noticed about the how the situation involving Kyrie Irving's "H2N Documentary" post unfolded, it was how the media put words in his mouth he didn't even say, and twisted his actual words when he responded to being falsely accused of being anti-Semitic. With Kyrie doing his first postgame press conference since his suspension, a moment came where it seemed like the media was trying to bait him into another controversy.
Before the game there was a peaceful group of individuals at least 100 deep wearing shirts that read, "Israel United in Christ". During his postgame interview a reporter asked Kyrie Irving a trick question that seemed like an attempt to make him directly connect himself to the group. Firstly the reporter made sure to describe them as a "hate group" before he asked Kyrie Irving how he he felt knowing that they showed up to the arena because of him. Rather than entertain the reporter's trap question, Kyrie calmly responded saying he would only discuss basketball related questions.
The footage below shows the IUIC group the reporter was referring to.
Jaylen Brown admitted mistaking them for the (C/Que's) Omega psi phi fraternity in a viral tweet after receiving backlash from the media for praising them in a previous tweet.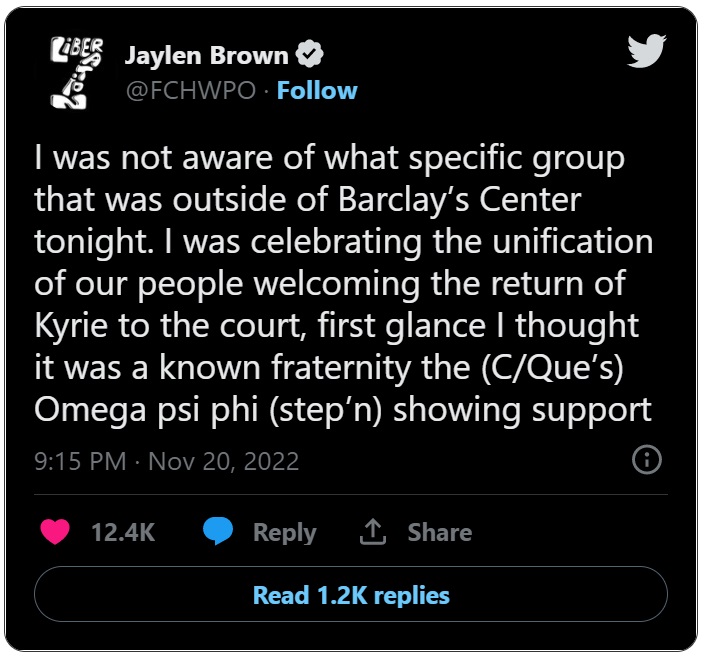 Kyrie Irving's response to the reporter's trick question regarding the Israel United In Christ protesters at Barclays Center suggests that from this point forward he won't give the media any ammo to create a manufactured drama to tarnish his name.
Another interesting part of the interview that stood out was the near the end when Kyrie said he would like to be on platform where he can share things without being harshly criticized. Was he taking shots at the Twitter cancel culture?