Canelo Alvarez was touted as an unbeatable fighter in the years after his embarrassing loss to Floyd Mayweather. He gained weight, power, and what seemed like a higher level of boxing IQ that allowed him to dismantle most of the opponents that were put in front of him. Some people even began believe that his fight against Floyd was just a fluke due to his younger age at the time. However, on the day before Mother's Day the myth of Canelo Alvarez was shattered by Dmitry Bivol, and Floyd Mayweather is loving it for more reasons than one.
Floyd Mayweather Reacts to Dmitry Bivol Beating Canelo Alvarez in Legendary Fashion: Floyd Mayweather Bet $10K on Dmitry Bivol
We all know how much Floyd Mayweather loves betting on major sports events. He regularly shows how much he won or lost on the massive bets he partakes in. Naturally with him not being fond of Canelo he chose to bet against him on this night, and he came up with a big win. Floyd Mayweather reacted Dmitry Bivol beating Canelo Alvarez by revealing the receipt from his bet on the match.
It appears Floyd Mayweather bet $10,000 on Dmitry Bivol winning, and netted $42, 500 as a result. Since he put up $10K his entire payout was $52,500. According to Floyd it was easy money most likely because he already knew how flawed of a boxer Canelo Alvarez can be. In the IG post the receipt revealed Floyd placed the bet at Silverton. He added the caption "easy pick up" just to throw salt on Alvarez's wounds.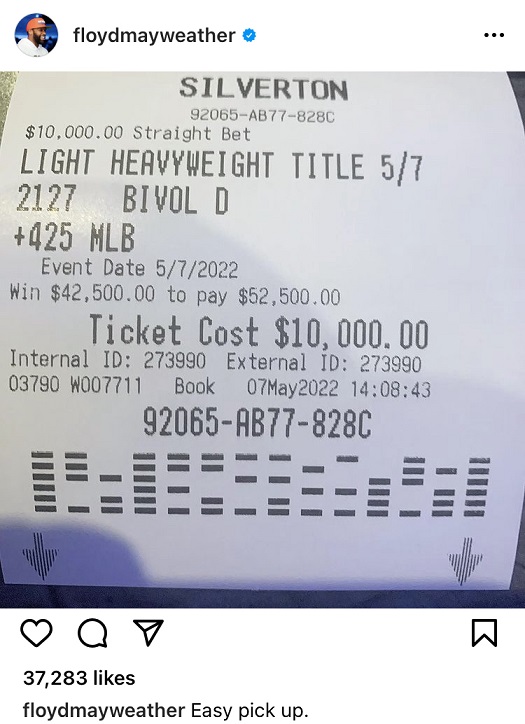 This old TikTok video where Floyd talked about how easy it should be for boxers to beat Canelo caught steam on social media again. In the footage Floyd Mayweather famously said, "I was almost 40 years old when I cooked this dude".
Social Media Reacts to Canelo Alvarez Losing to Dmitry Bivol by Praising Floyd Mayweather
If Floyd Mayweather is reading through twitter tonight then he probably feels very vindicated. Many of the social media reactions to Dmitry Bivol beating Canelo Alvarez are from people saying this is proof that he should never be compared to Floyd Mayweather again. Essentially his myth as been busted no pun intended.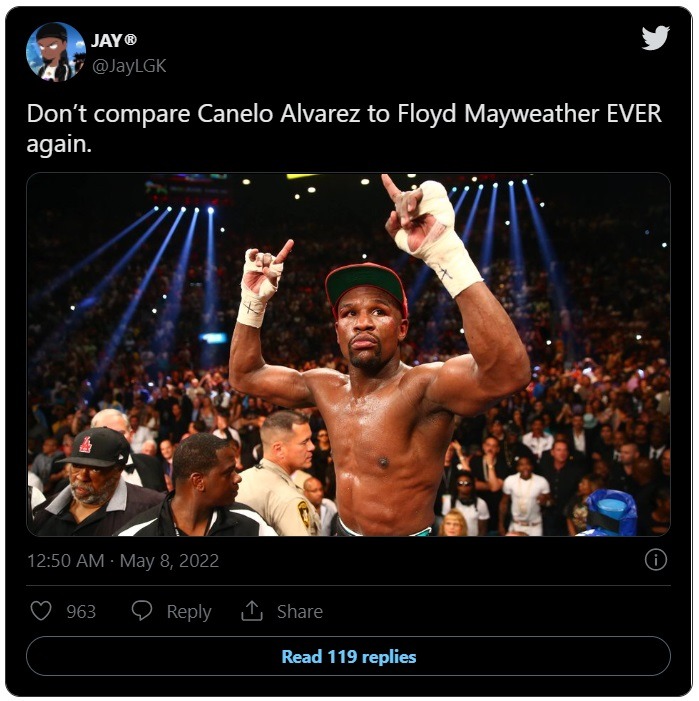 Interesting Stats About Canelo Alvarez Losing to Dmitry Bivol: Details on How Canelo Alvarez Hit Dmitry Bivol Less Times than Floyd Mayweather
To say the history of boxing changed with this fight is definitely not an understatement. This was the first time Canelo Alvarez lost since his September 2013 fight versus Floyd, effectively ending his 16 fight win-streak. In addition Canelo Alvarez only landed 84 punches, which is the lowest total of his entire career in a 12 round fight. It sounds almost unbelievable, but he actually hit Floyd more times than he hit Dmitry Bivol. During that fight he hit Floyd 114 times.
This match could be the moment Canelo Alvarez starts to fall off similar to how Anthony Joshua was never the same after upset loss to Andy Ruiz. Floyd Mayweather betting $10K on Dmitry Bivol, and actually winning the bet probably is going to make this loss hurt even more for Canelo.
Dmitry Bivol retained his WBA light heavyweight championship, congrats to him.