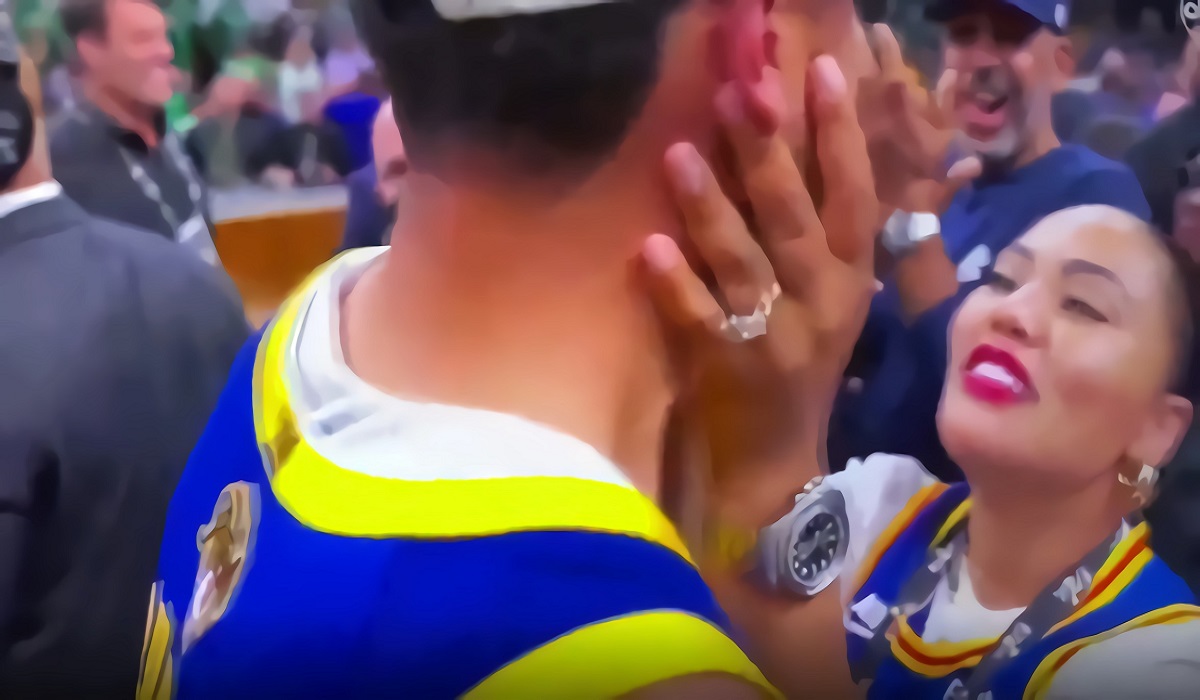 When it comes to NBA wives Ayesha Curry seems to be one the most passionate in how she expresses her support for her husband. When Steph Curry has success sometimes she seems happier than he is, and when he's experiencing failure she sometimes seems sadder than he is, judging solely off what we see on tv and social media. Naturally she was one of the happiest people while experiencing the success of another championship with Steph Curry.
Ayesha Curry Kisses Stephen Curry with Lipstick While Celebrating 2022 NBA Championship
In one of the most touching moments of the 2022 NBA Finals Stephen Curry celebrated with Ayesha Curry after they met on the court to soak in the magnitude of the moment. As he hugged her you could see the intensity Stephen Curry was feeling about finally accomplishing his goal of her enduring so much failure with his franchise. When Ayesha Curry kissed Stephen Curry she appeared to wipe some her lipstick off his face. It just added to how real the moment was for all their fans.
Ayesha Curry leaving lipstick on Stephen Curry's lips is going to be one of those moments you see in his future documentaries.
This series was probably the most important NBA Finals of Stephen Curry's career. People were doubting if he could lead a team to a championship, because of his stint with Kevin Durant after losing a 3-1 lead to Lebron James. People were also doubting if he would ever win an NBA Finals MVP. In defeating the Celtics he has done both with an injured foot.
For the past few years Stephen Curry had to spend his summers thinking about what Warriors could be if they were able to get healthy. Now he's seeing that come fruition as they have become what he said they could be when healthy.