The conspiracy theory that Lebron James breaking Kareem Abdul-Jabbar's scoring record was scripted by the Illuminati has been gaining traction in some circles. While it may seem far fetched when you take into account the evidence at hand it really makes you start to wonder if people may be onto something. As you'll see below there is a very strange occurrence of numbers that seems more than just coincidence.
The Evidence Fueling the Conspiracy Theory Illuminati Scripted Lebron James Breaking Kareem Abdul-Jabbar's NBA Scoring Record on February 7, 2023
Before today the number 38 seemed like an arbitrary number, other than the fact that Lebron is that age. However, on closer look this number may mean a lot more than meets the eye. Here are some strange facts about how the NBA scoring record was broken yesterday. Lebron James who is 38 years old, broke the scoring recording with a 38 point game, on the 38th day of the year. When he scored the record breaking basket it was the 38,388 points of his career.
As you can see no matter where you look the number 38 is ingrained in the Lebron's incredible feat. This has people convinced the Illuminati scripted Lebron James breaking the NBA scoring record specifically on the 38th day of 2023. This has caused the rumors of him being part of the Illuminati to resurface. Now before we delve into when the Lebron Illuminati conspiracy theories first began, let's take a look at the special moment, which may or may not have been scripted by the alleged secret society.
Looking Back at How the Lebron James Illuminati Conspiracy Theories First Began
In 2020, Lebron James made an Illuminati triangle sign and 666 gesture with his hand before a Lakers game, which only further perpetuated the rumors. The Illuminati is a secretive group that is believed to control world events, and the triangle sign and 666 devil number are commonly associated with the alleged satanic worshipping group. While Lebron James' intentions behind the gesture are unknown, it has only further ignited the conspiracy theory. Take a look the video clip and pictures below.
Watch closely at his hands when the clip slows down.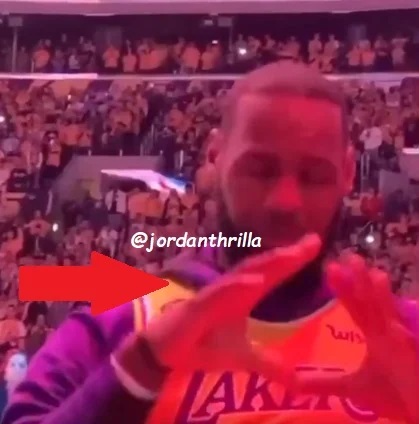 The rumors of Lebron James being part of the Illuminati have only grown since the evidence above went viral three years ago. As aforementioned the strange occurrences of the number 38 in his achievement yesterday have many people convinced that Lebron James' scoring record is part of a larger conspiracy, and that the Illuminati pre-planned his success. Some even go so far as to say that the Illuminati was responsible for his entire career.
There are some who argue that Lebron James' success was the product of hard work and dedication, and that the Illuminati had no involvement. While Lebron James has indeed achieved success through consistent hard work, many still believe that the Illuminati has been controlling his success behind the scenes.