They say what happens in Vegas stays in Vegas, but not when you get caught up with the law. According to reports Chiefs Corner Back Damon Arnette got arrested in Las Vegas, and is facing some serious charges. The situation is sad, because he recently signed a future reserves contract with Kansas City.
Details on Why Chiefs CB Damon Arnette Got Arrested in Las Vegas Nevada
According to reports Damon Arnette is currently being held at Clark County Detention center. He is facing charges including possession of large amounts of marijuana, possession of a two level controlled substance, carrying a gun without a permit, and assault with a deadly weapon. He was arrested on Friday around 6 pm at Park MGM.
Damon Arnette's Booking Report From Las Vegas Arrest Goes Viral
Due to the laundry list of charges he's facing the Clark County Detention Center arrest booking report for Damon Arnette has drawn much attention on social media. Based on his arrest record he is scheduled to appear in court on January 30 at 9am. Arrest records state he is being held without bail.
Take a look.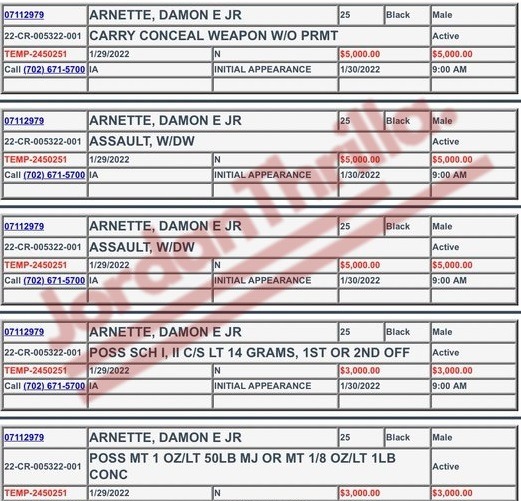 Although the two level control substance isn't listed on Damon Arnette's arrest booking report, according to Las Vegas law books they include drugs such as LSD, ecstasy, meth, and morphine.
At only 25 years old it's clear he's facing many years in prison. It might be safe to say Damon Arnette's NFL dreams are officially over.