The tragic death of Jayland Walker has been one of the biggest stories in the news over the past few days. What should have been a routine traffic stop turned into a black man getting shot over 60 times by Akron Police Officers. It was first reported that Jayland Walker flashed a gun at police before he was shot, but recently released body cam footage tells a different story.
Does Body Camera Video Show Jayland Walker Unarmed When Police Shot Him?
The Body cam footage of police shooting Jayland Walker doesn't show all the events that transpired, but shows the ending moments of the foot chase that led to his death. Police claim there was gun in the front seat of his car, but as you'll see in the footage below Jayland Walker was unarmed as he ran from police. The 8 officers involved in the shooting claimed that it looked like he was about to reach for something on his waist before they opened fired shooting 90 times of which 60 bullets hit him.
When paramedics arrived to the scene they recalled seeing Jayland Walker lying face down in handcuffs. He was wearing ski mask as he exited the car before running, but reports say it should have been a routine traffic stop. A report from Akron Police Chief Stephen Mylett said that medical examiners confirmed that there were 60 bullet wounds on his body. He also claims that the officers who shot him immediately provided medical support, but there was no chance of him surviving that many shots. Take a look at the tragic Jayland Walker body camera video.
Lebron James Reacts to Body Cam Video Showing Unarmed Jayland Walker Shot by Akron Police
Lebron James who is from Akron Ohio has been very emotionally invested in this situation. For him this tragic incident hit close to home, because he was once a young black man growing up in that city. Lebron reacted to the unarmed Jayland Walker getting shot in the body camera footage by posting 'I pray for my city today'. Luckily, so far the protests have been relatively peaceful, so his prayers have been answered so far.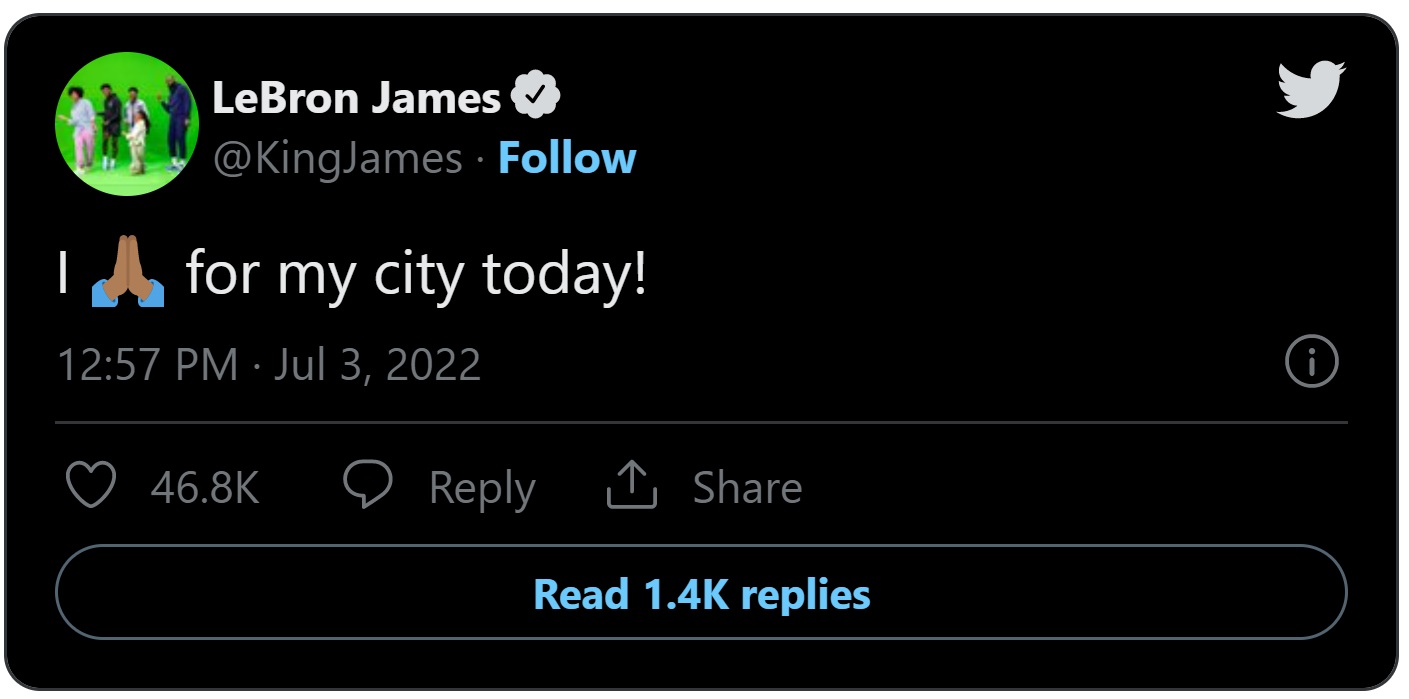 Akron Police Chief Stephen Mylett has declined to say whether the officers who killed Jayland Walker overreacted, but all 8 have been place on administrative leave with pay. The city has cancelled their July 4th festivities in order to prepare the expected surge protests.
Based on the video it looks like Akron Police murdered Jayland Walker, but who knows what the court will say when this goes to trial.