The NBA is no stranger to drama and trash talk, especially on social media. But the latest feud between Kyle Kuzma and Spencer Dinwiddie has taken things to a new level of petty and personal. The two players have been exchanging insults and jabs on Twitter, with Kuzma calling Dinwiddie overrated, and Dinwiddie questioning Kuzma's value and role on a good team.
How Kyle Kuzma Dissed Spencer Dinwiddie
The beef started when Kuzma, who was traded from the Lakers to the Wizards in the offseason, sent out a series of tweets talking about how Dinwiddie is only in the playoffs this season because he got traded to the Nets, who already had a good record. Kuzma also clowned Dinwiddie for averaging 8 points, 4 rebounds, and 4 assists at the end of his Wizards tenure as a second option, implying that he was not worth his current contract.
Kuzma did not stop there. He also mocked Dinwiddie for his interest in cryptocurrency and his attempt to tokenize his contract in the past. Kuzma said that the only way Dinwiddie will ever be worth his contract is if the NBA allows him to get paid in crypto, suggesting that his value is inflated and unstable. As you'll see Kuzma really went in. He was trying to hurt feelings real deep with his words.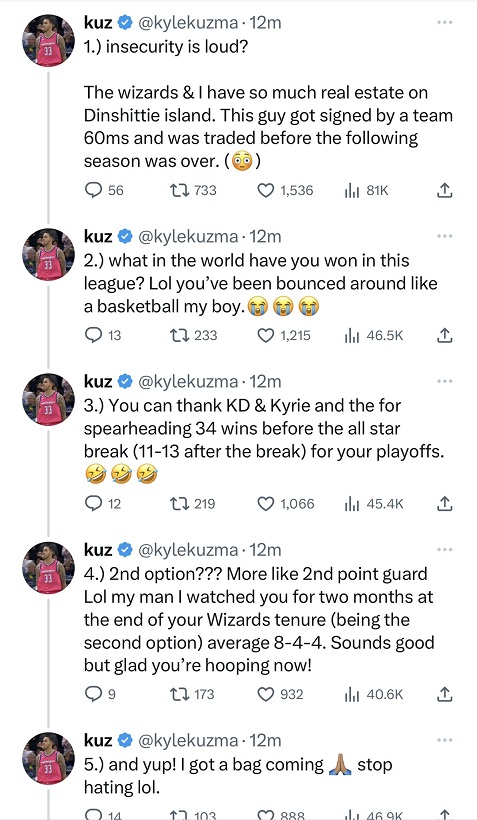 Spencer Dinwiddie Responds to Kyle Kuzma's Mean Tweets
Dinwiddie did not take Kuzma's tweets lightly. He fired back by isinuating that Kuzma has no room to be talking about him that way, because he is not even a third star on a good team. Dinwiddie pointed out that if Kuzma was so good, the Lakers probably would have kept him instead of trading him away in the deal that brought Russell Westbrook to Los Angeles. Dinwiddie also implied that Kuzma is riding on the coattails of Bradley Beal, and that he is not a reliable scorer or defender.
In his own words he said, "You're probably not even a third star really on a good team, because if you were the Lakers probably would have kept you".
The feud has sparked a lot of reactions from fans and analysts, who have been debating who is right and who is better. Some have sided with Kuzma, arguing that he has more playoff experience and success than Dinwiddie, who has only played in one postseason series in his career. Others have sided with Dinwiddie, claiming that he is more versatile and efficient than Kuzma, who has been inconsistent and erratic throughout his career.
It will be interesting to see how they match up, and whether they will continue their trash talk or let their game do the talking whenever their teams face off next season. Either way, this is one of the most entertaining and heated rivalries in the NBA right now. We need more of this in the NBA to make things more exciting.