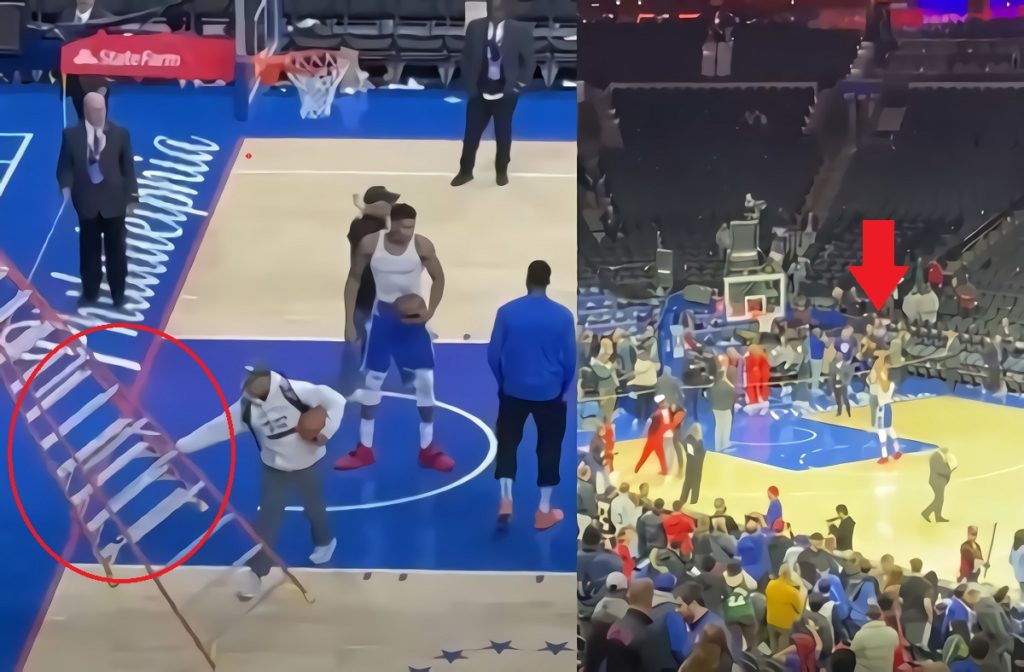 When it comes to never being involved in any type of real drama, Giannis was a rare superstar that fit into that category. His composure on and off the court over his career made him seem like the type of player who would never get in any type of trouble. That may have changed after a scary incident involving a ladder and feelings of frustration.
Why Did Giannis Antetokounmpo Push Down a Ladder?
The rivalry between Embiid and Giannis is one of the most exciting aspects of the Eastern Conference. The intensity they both bring always makes for a legendary game. This time around the Sixers came out on top winning the game 110 – 102. Down the stretch Giannis missed some crucial free throws. Like the dedicated player he is, after he game he came back out to the court wanting to get some extra shots up. The problem was they were already getting ready to start taking down the rim. There was large ladder in Giannis' way, and it seemed like the arena staff didn't want to move it. As result Giannis pushed the ladder, and loud thud filled arena as it hit the floor. Luckily it didn't land on anyone, because it might have caused a serious injury.
Giannis Antetokounmpo Air Ball Missing Free Throws After Pushing Down the Ladder Added to the Cringe Worthiness of the Moment
Now if you're going to push down a ladder to shoot free throws, the least that person could do is actually make them. One video clip showed Giannis missing all his free throws after pushing down a ladder that could have injured someone. One of his free throw attempts was an air ball. The people in the crowd were literally laughing at his pain at the line.
Does this situation warrant a suspension, or a fine? Judging from what took place it seems inevitable one or both of those scenarios is on the horizon.