When Lakers faced off against Warriors in the play-in game things started off how most people didn't expect. Warriors came out dominating the Lakers building up an early lead of around 16 points. At the close of the first quarter Steve Kerr made a comment to his team that Anthony Davis felt was ridiculous.
While in the huddle Steve Kerr said Lakers had doubt, while they had belief. When NBA posted his quote on social media Anthony Davis responded to Steve Kerr with laughing emojis. He didn't just use one, he used 5 emphasize how comedic he thought his remarks were.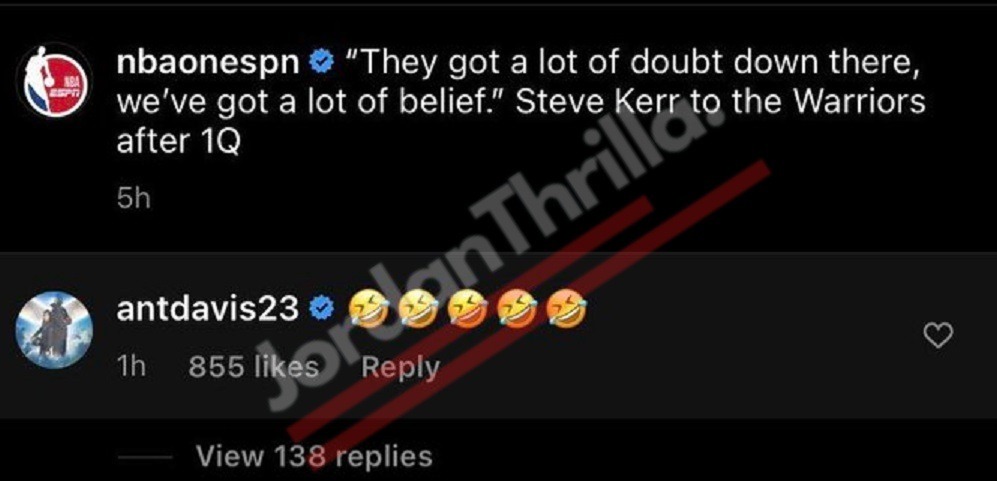 We think Anthony Davis laughing emoji Steve Kerr in such a disrespectful manner had more to do with his frustration from players like Jordan Poole talking trash to him during the game when they had that early lead.
It will be interesting to see what becomes of this saga. Will Steve Kerr make a public statement if reporters ask him about those Anthony Davis laughing emojis? He usually takes the high road, but he also always speaks on little things like this.
As expected that Warriors vs Lakers game provided the A+ drama and storylines even after the game is set in stone.
Author: JordanThrilla Staff