Chloe Bailey, the singer and actress who rose to fame as part of the duo Chloe x Halle, has been making headlines for her solo debut album "In Pieces". The album, which was released on March 31, 2023, was expected to be a smash hit, given Chloe's popularity and talent. However, the album failed to live up to the hype, selling only 10,000 copies in its first week and receiving mixed reviews from critics and fans.
Chloe Bailey Has Meltdown Onstage After Her Album Flopped
According to Chart Data, "In Pieces" debuted at #119 on the Billboard 200, the main chart for albums in the United States. The disappointing performance of "In Pieces" seemed to take a toll on Chloe's mental state, as she had a meltdown on stage during her concert in Los Angeles. During the profanity filled rant Chloe Bailey told people making fun of her album flopping to "kiss my black a**", while claiming that she doesn't care about all the noise. However, many people feel her meltdown is proof that she really does care.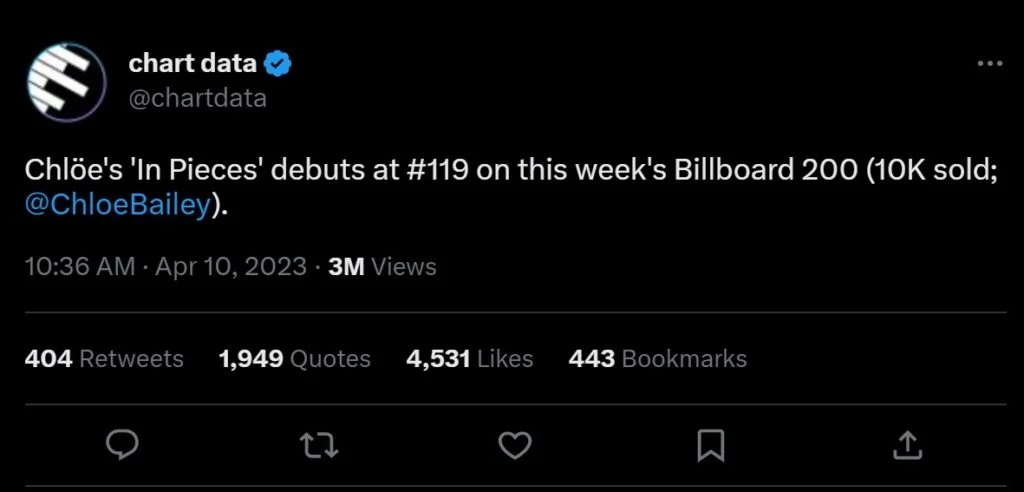 Many people were shocked by the low sales of "In Pieces", as they expected Chloe Bailey to sell more based on how popular and well-known she is. Chloe Bailey has over 20 million followers on Instagram and over 10 million followers on Twitter. She is also known for her viral videos on TikTok, where she showcases her singing, dancing, and acting skills. She has received praise from celebrities like Beyoncé, who signed Chloe x Halle to her label Parkwood Entertainment, and Zendaya, who called Chloe Bailey her "queen".
Her situation is more proof that social media popularity does not always translate to people actually buying the music from the artist. One past examples is Dixie D'Amelio, who has over 50 million followers on TikTok, only sold 5,000 copies of her debut album "The Social Tourist" in its first week. Another is, Addison Rae, who has over 80 million followers on TikTok, only sold 3,000 copies of her debut album "Obsessed" in its first week.
Luckily for Chloe many music artists claim that they don't make much money from album sales anyway, and the major source of revenue is doing concerts. Considering that she is still able to sellout arenas her pockets probably aren't hurting much. However, the general public usually judges an artist's relevance by their album sales, so it probably will impact her legacy.
Chloe needs to stay strong through this time, because the meltdown makes it seem like the haters are definitely affecting her mental mind state. She's only giving the people clowning her more fuel to keep doing so. If something is not bothering you, why waste time talking about it in such an aggressive manner?