Over the past few months Elon Musk has become more known for speaking his mind on social media then his incredible electric cars. Whenever something is going on in the world, Elon Musk always has a unique take that sometimes offends many, but also makes his fans like him even more. That held true when Elon Musk commented on the Ukraine war with a strange meme.
Social Media Reacts to Elon Musk's Ukraine War Black Guy Transgender Russian Soldier Joke About Netflix
Elon Musk has been criticizing Netflix ever since the Dave Chappelle "The Closer" special sparked a debate about how Netflix disrespecting people in the LGBTQ community.
Somehow he found a way to use the Ukraine war to criticize Netflix again, and his tweet is going super viral. It seems this time Elon Musk criticized interracial relationships being promoted by Netflix as well.
In the tweet Elon Musk said this by using a meme,
"Netflix waiting for the war to end to make a move about a black Ukraine guy who falls in love with a Transgender Russian Soldier."
Naturally Elon Musk's transgender Russian solider Ukraine black guy joke has angered many people on social media.
These are some viral reactions to Elon Musk joking about the Ukraine war, transgender people, and Netflix.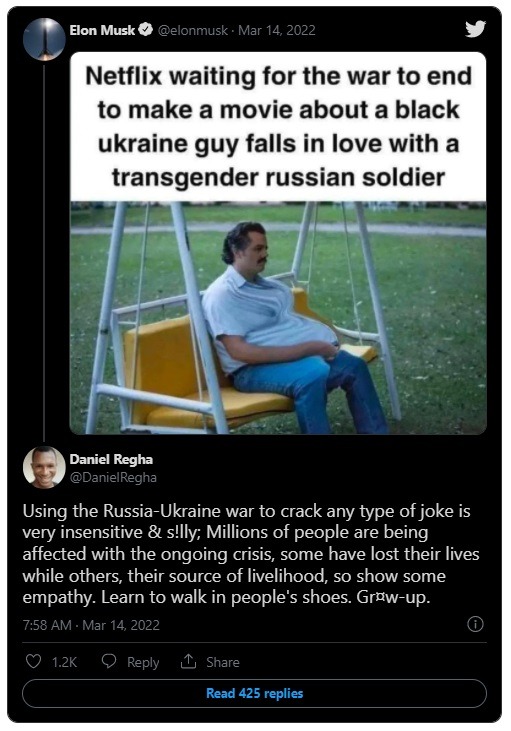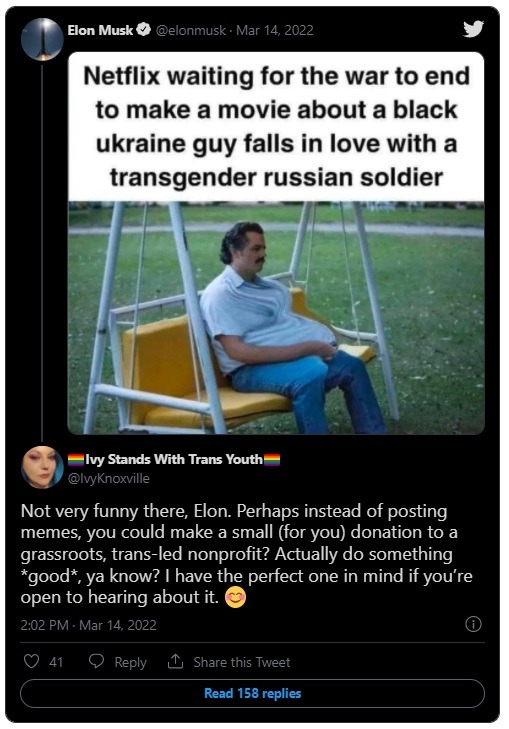 There were some people who defended Elon Musk's Ukraine war joke.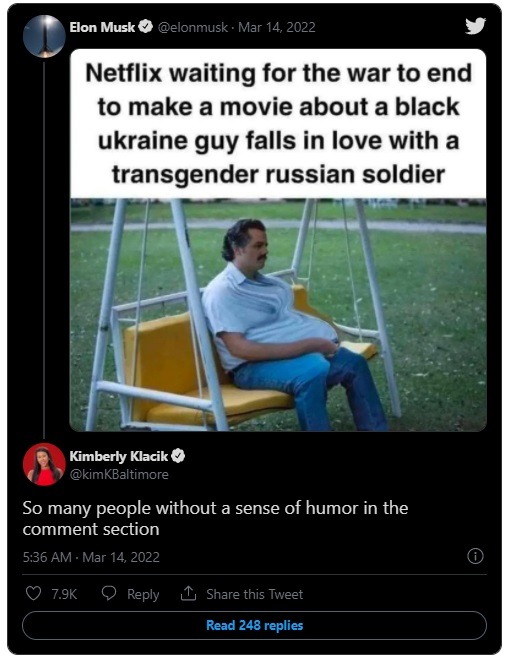 Is the Ukraine War Joke Proof Elon Musk is Racist and Transphobic?
As you can see from the reactions most people think the Ukraine war Netflix joke is proof that Elon Musk is transphobic and racist. It's easy to see how his tweet seems to take shots at both transgender people and interracial relationships being promoted in Hollywood.
Elon Musk is so rich and works in a sector where public relations probably doesn't matter to him. No matter what he says it probably won't affect the sales of his electric cars or his other business endeavors. However, he should definitely think twice about posting things that offend so many people considering the large platform he has.