Women have officially cancelled Kevin Samuels, and there is growing number of people supporting the movement. It appears women have started a Change.org petition to ban Kevin Samuels from YouTube and Instagram, which are his main sources of income.
The Change.org petition titled "Remove Kevin Samuels from YouTube and Instagram" currently has 11,177 signatures, and final goal of 15,000. The number is steadily rising, and will likely surpass the goal by the end of the day.
Why Women Started at Change.Org Petition to Remove Kevin Samuels from Social Media
According to the details of the remove Kevin Samuels Change.org petition, women feel he is the new leader of hatred towards women. They feel this is dangerous, because in recent times there has been an alleged increase of violent crimes against women. They allege that death threats, $exually predatory behavior, and manipulation of women have all been directly tied to the rhetoric Kevin Samuels preaches in his videos. They claim that women now feel unsafe around men who are Kevin Samuels fans.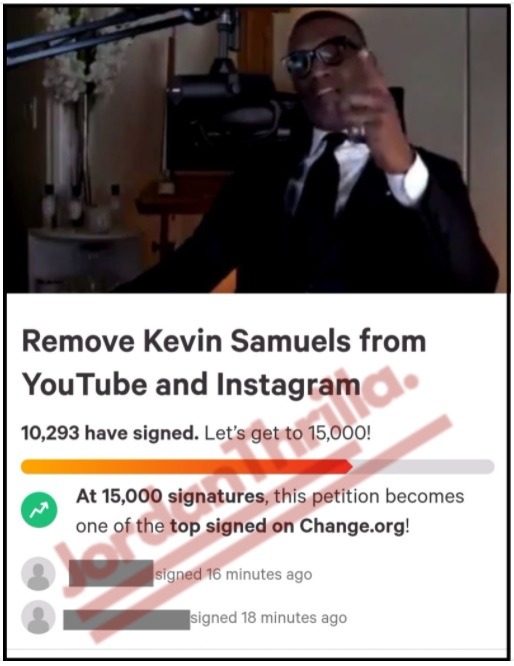 It's not clear how Instagram approaches controversial situations like this, but in the past YouTube has shown that it is willing to take down a very successful person's channel if enough civil unrest is being attributed to it. However, it doesn't seem like there is any real concrete evidence to support the claims being made in the Kevin Samuels Change.org petition.
Only time will tell how this plays out, but it could end up being a career altering moment for Kevin Samuels.