Did Matt Petgrave murder Adam Johnson? This question is trending after UK police arrested Matt Petgrave, a hockey player who cut Adam Johnson's neck with his skate during a game two weeks ago. The incident, which left Johnson with a deep wound and a lot of blood loss, which led to his death sparking outrage and controversy on social media. Many people accused Petgrave of intentionally trying to hurt his opponent.
What Charges is Matt Petgrave Facing After His Arrest for Adam Johnson's Death?
According to the police, Petgrave has been charged with manslaughter, and is currently in custody. This means police have reason to believe that it is possible that Matt Petgrave murdered Adam Johnson on Live TV. During the court case he will presumably have to prove that he did not mean to injure Johnson when he kicked him in the neck. The police have been investigating the incident since it happened, reviewing video footage and interviewing witnesses and experts.
The court case could be complex and challenging, as it would require clear evidence that Petgrave acted with malice and intent to harm Johnson. The defense could argue that it was an accident or a reflex action, or that Petgrave was not aware of the risk of cutting someone's neck with his skate. The prosecution could point to Petgrave's history of violent behavior on the ice, or to any signs of animosity or rivalry between him and Johnson.
Many fans on social media have been saying for a few weeks now that they strongly believe the kick was intentional. Based on footage of the incident, some people argue that Petgrave was intentionally aiming for Johnson's throat. However, there have been similar incidents like this that have happened in hockey before, which is why some players wear neck guards.
Take a look at how it happened. Was Matt Petgrave's arrest warranted?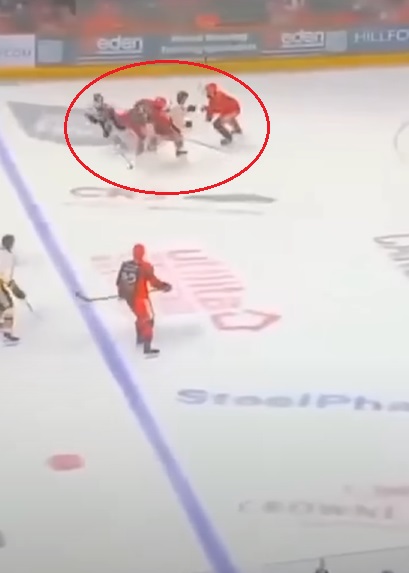 The incident has raised questions about the safety and ethics of hockey, a sport that is known for its physicality and aggression. Some people have called for stricter rules and penalties for players who injure others, while others have defended the sport as part of the Canadian culture and identity.
The hockey community has also expressed its support and sympathy for both players and their families, hoping for a fair and speedy resolution of the case. If the investigation uncovers that Matt Petgrave murdered Adam Johnson on Live TV, that would be a stain on the hockey community that will never wash away.
Do you think this incident can be described as manslaughter?