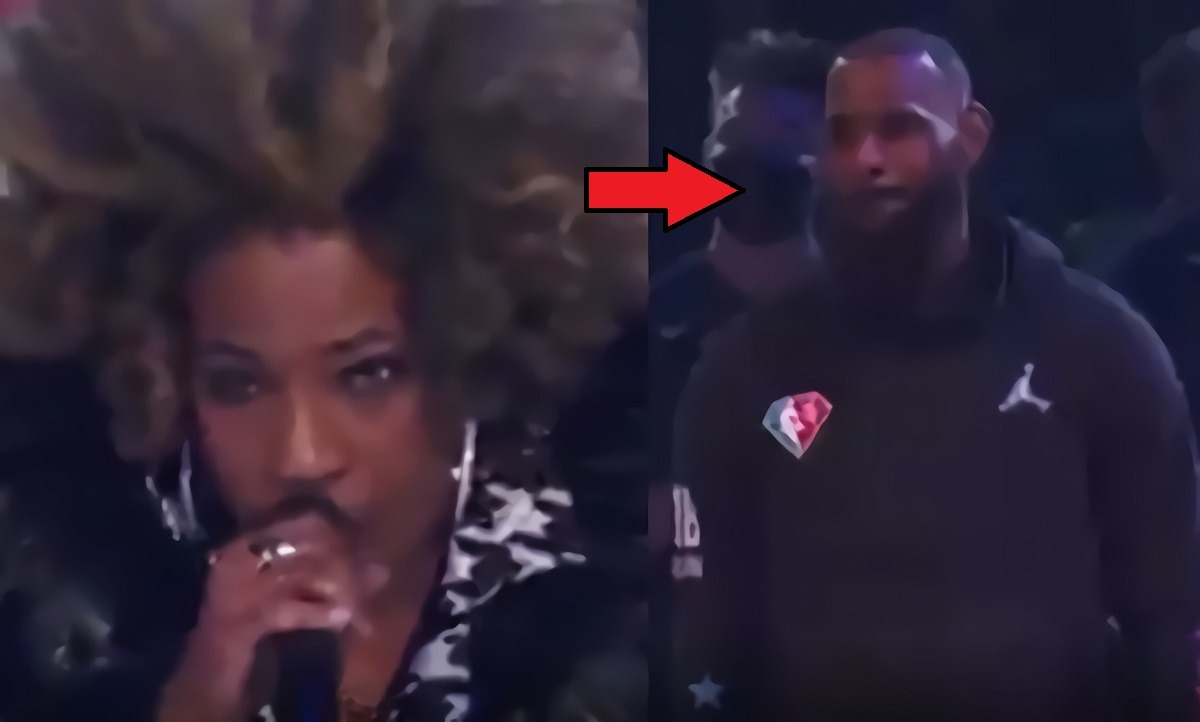 Through the years in the NBA there have been many legendary singers who sang their hearts before games in their own unique ways. The same remained true during the 2022 NBA All Star Game, but some aspects of the performance caught many people off guard, including the biggest superstar in the leauge Lebron James.
Was Lebron James Trying Not Laugh at Macy Gray Singing National Anthem During NBA All Star Weekend 2022?
Most people know that Macy Gray has a unique voice, but during the 2022 NBA All Star game some people thought she sounded a bit off. The camera caught what social media believes was Lebron James holding in laughter as Macy Gray sang "gave proof through the night" with a very raspy tone. It almost sounded like she lost her breath for a moment, but at the same time that's the style of singing that made her legendary. Lebron tried his best not laugh at Macy Gray, and luckily he was able to hold himself back.
Social Media Reacts to Lebron James Almost Laughing at Macy Gray Singing Star Spangled Banner
Social media roasted the Macy Gray Lebron James laughing moment with so many memes. The tweet below had to be one of the funniest posts, because of how accurately it described what they believed was happening in the footage above.
Was Lebron James trying not to laugh at Macy Gray singing the National Anthem, or did the camera coincidentally catch him in a moment where he was laughing at something else?
The reality is that Macy Gray was actually staying true to the singing style she used her whole career. However, some people think that her way of singing doesn't mesh with a song like the Star Spangled-Banner.
All things considered it would be a bit surprising to see Lebron James laughing at Macy Gray, it's a bit surprising that he possibly almost laughed.