A 57-year-old man has sparked outrage online after he revealed that he broke up with his girlfriend of 25 years because he decided he wants to have kids when she, who is 55 years old, is already going through menopause.
The man shared his story on the popular subreddit forum r/AmItheA**hole, where users post about their real-world interpersonal conflicts and receive judgement from fellow redditors. He asked the community if he was the bad guy for changing his mind, when his girlfriend is acting like he doesn't get to change his mind. His AITA reddit thread was titled "AITA for changing my mind about kids at 57 and leaving my girlfriend because of it?"
According to his post, he and his ex-girlfriend met when they were in their early thirties and had a long-term relationship without marriage or children. He said that his ex-girlfriend was always on the fence about children, but he did not want them because he was focused on starting a business and did not want to sacrifice his time and money for them.
He said that they argued and went to counseling over this issue, but eventually settled into a comfortable lifestyle after his business took off. They traveled the world, volunteered for charities, and enjoyed their money.
However, he said that everything changed when his ex-girlfriend casually mentioned that she was menopausal at 53, and could no longer have children. He said that he felt an internal crisis, and realized that he wanted a family and biological kids.
He said that he was inspired by his divorced friends who had healthy children in their fifties, and felt that he could provide for them and appreciate them more than younger fathers. He also said that his doctor told him that he could still father children at his age.
The Break Up
He said that he sat down with his ex-girlfriend and told her about his feelings and desires. He said that she reacted angrily and accused him of having a midlife crisis and wasting her time. She also called him narcissistic for not wanting to adopt, when nearly all parents try for biological kids before adopting.
He said that he broke up with her and let her stay in his vacation house for a month, so she can find her own place. He said that she has been telling everyone that he is crazy, and will regret his decision.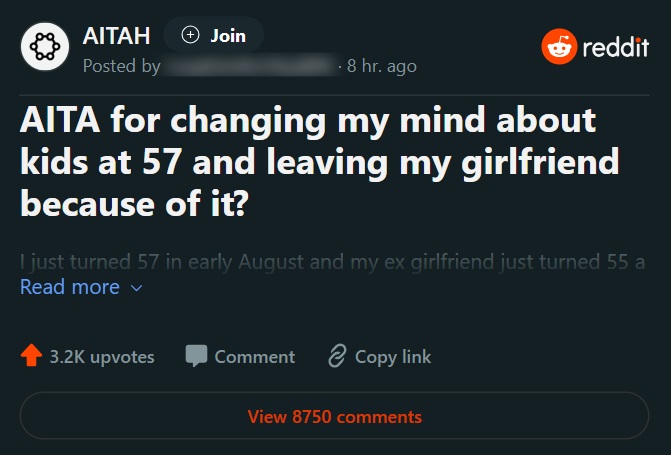 His post received over 8,000 coments at the time of this writing, many of which were highly critical of him and supportive of his ex-girlfriend. Many users called him selfish, immature, unrealistic, and cruel for dumping his partner of 25 years over something that he knew was not possible for her.
Especially considering he refused to have kids when she was actually able to. They also pointed out the difficulties and risks of having children at an older age, both for him and his potential offspring.
One can only hope that reactions in the AITA reddit thread will help that 57 year old man have change of heart about leaving his wife, because she can't have kids anymore. Judging from his story she stuck by his side when he didn't want kids, and she did.
Who do you think is wrong or right in this situation?