Russell Westbrook's first season as a Laker was nothing short of a disaster. Once known for getting triple doubles, Westbrook became known for air-balling layups and jump shots. Things got so bad that Lakers faithful started yelling 'noooooo' when he tried shooting threes during games. With a massive contract hauling in around $40 Million each season he became more of an expensive nuisance than a player who made Lakers better.
With Lakers' season ending abruptly without even a play-in game to talk about, naturally people are wondering what the future holds for Westbrook. Most NBA insiders claim Russell Westbrook is untradeable because of his contract, with rumors of only a few teams like Charlotte Hornets and Pacers expressing interest. Considering all the chaos he caused Lakers fans are ready to see him go, and it seems like Westbrook is ready to go as well.
Russell Westbrook Likes Tweet About Leaving Lakers Sparking Celebrations in LA
Recently a Lakers fan posted a message on Twitter imploring Westbrook to never return to LA for basketball reasons. In the tweet the fan wrote, "Please don't go back next year. Do whatever it takes to go somewhere else or even consider retiring, but leave Lakers alone dude please". The disrespectful Tweet had only 4 likes, but low and behold one of them was Russell Westbrook. Does this confirm Westbrook is done playing for the Lakers?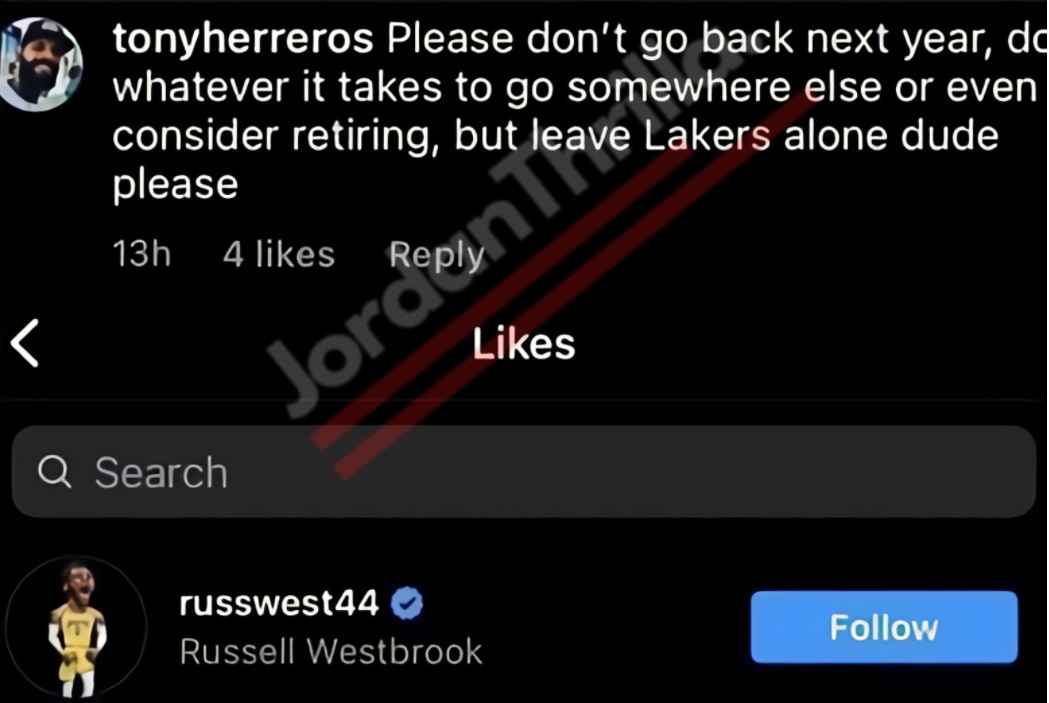 Lakers fans don't want to go through this again.
Russell Westbrook liking a tweet about leaving Lakers isn't surprising all things considered. Throughout the season he made it clear that he doesn't like playing in front of Lakers fans despite LA being his hometown. At one point during the season he even claimed that he no longer acknowledges Lakers fans during games.
What makes this situation so complex is that Lakers have to hope another teams saves them from Westbrook, unless next season it might be more of the same.