Most people think Kawhi Leonard is a robot, but apparently he bleeds a lot. After Serge Ibaka knocked out Kawhi Leonard with a vicious elbow to the jaw, he collapsed down the floor. As the camera zoomed in Kawhi Leonard was bleeding profusely from the mouth.
After a long break medical personnel helped Kawhi Leonard back to the locker room.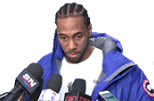 For Clippers fans the moments leading up to this incident were like Deja vu from last season as Nuggets closed the lead. It's not known how serious Kawhi Leonard's injury is, but he will definitely need concussion tests.
Serge Ibaka dubbed Kawhi the "fun guy", but they may not be friends after this. Hopefully Kawhi Leonard doesn't have a broken jaw.
Author: JordanThrilla