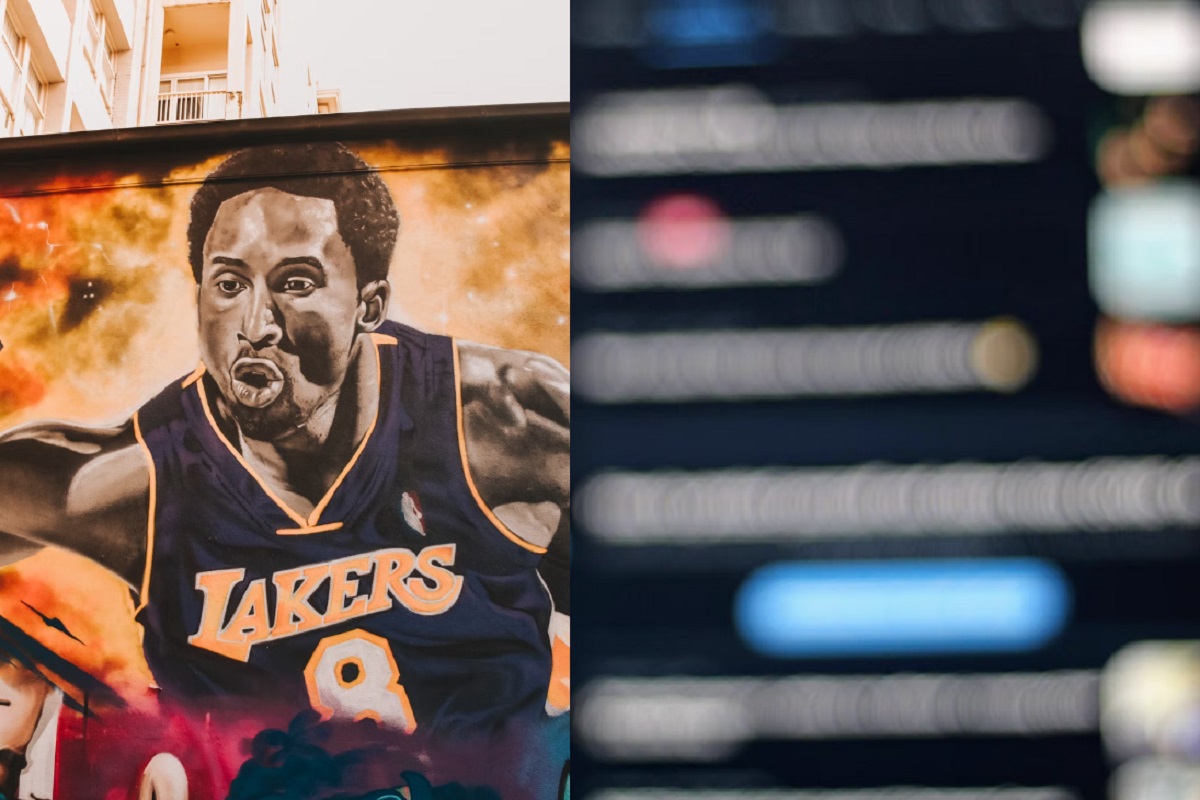 With the NBA Free Agency market wide open, and all the rumors that Kyrie Irving wants to play for the Lakers, Twitter is in a frenzy over what many people perceive to be a unique strategy from Lakers management. It's been said before that the most important reason Kyrie might want to play for the Lakers is due to his relationship with Kobe Bryant, rather than the success he had with Lebron. This has fueled a conspiracy theory that Jeanie Buss is using that to her advantage via social media.
Is Jeanie Buss' Tweet About Kobe Bryant a Strategy to Entice Kyrie Irving to Join Lakers?
Today was big day for Lakers fans for many reasons. It started with a rumor that Kevin Durant was house shopping in Paradise Valley Arizona, which possibly meant a deal was close to being done. The faster Kevin Durant is traded from the Nets, the closer the possibility of Kyrie in a Lakers jersey becomes. The day would take an even more interesting turn late at night when Jeanie Buss' twitter account sent the NBA world into deep thoughts.
Jeanie Buss sent out tweet talking about how much she misses Kobe Bryant. In that tweet she talked about the virtues he instilled on the game of basketball that impacted everyone in the Lakers organization in a positive way. In the tweet she wrote,
"I miss KB. He would understand and explain everything that I'm not allowed to. Honestly he was the greatest Laker ever. He understood team over self. Meaning your rewards would come if you valued team goals over your own then everything would fall into place. All can reply".
Due to the timing many people suspect that Jeanie Buss' Kobe Bryant tweet is directed at Kyrie Irving, in that she's subliminally telling him to join Lakers to carry on Kobe's legacy as his protégé. Take a look.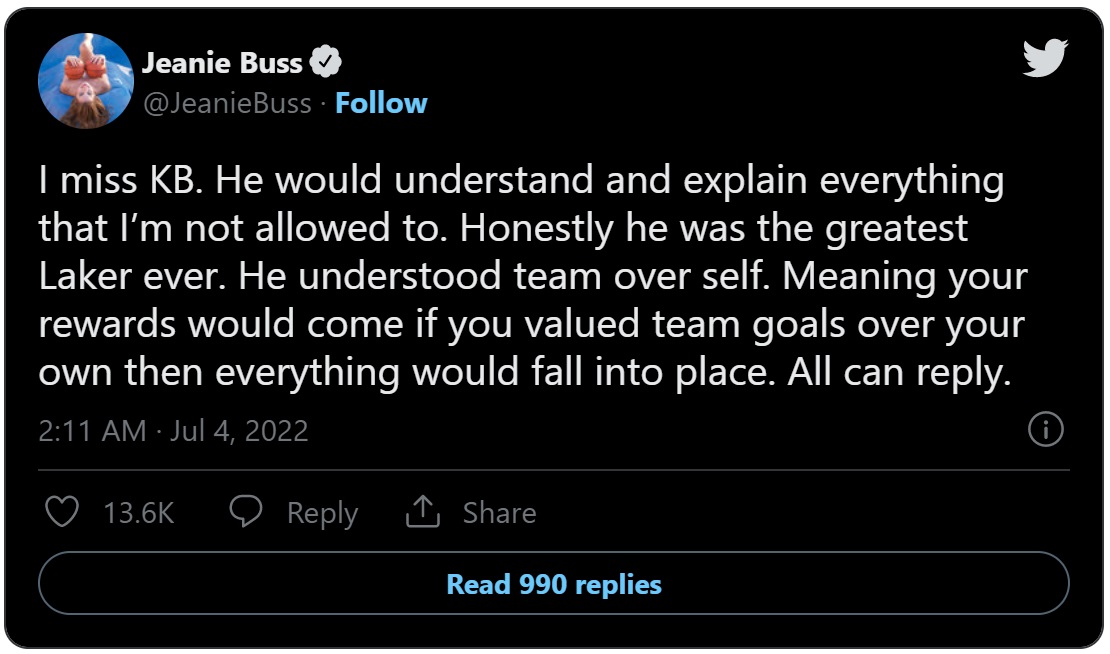 Social Media Reacts to Jeanie Buss' 'I miss Kobe Bryant' Tweet Amidst Kyrie Irving to Lakers Rumors
On social media people already knew that their timelines were about to blow up as people dissected Jeanie Buss' tweet. Not surprisingly most people were mentioning the timing of the message of she wrote.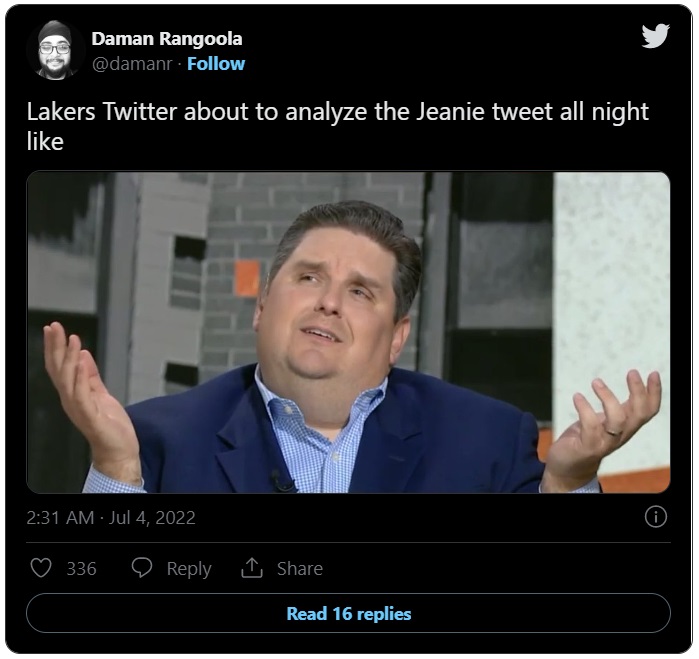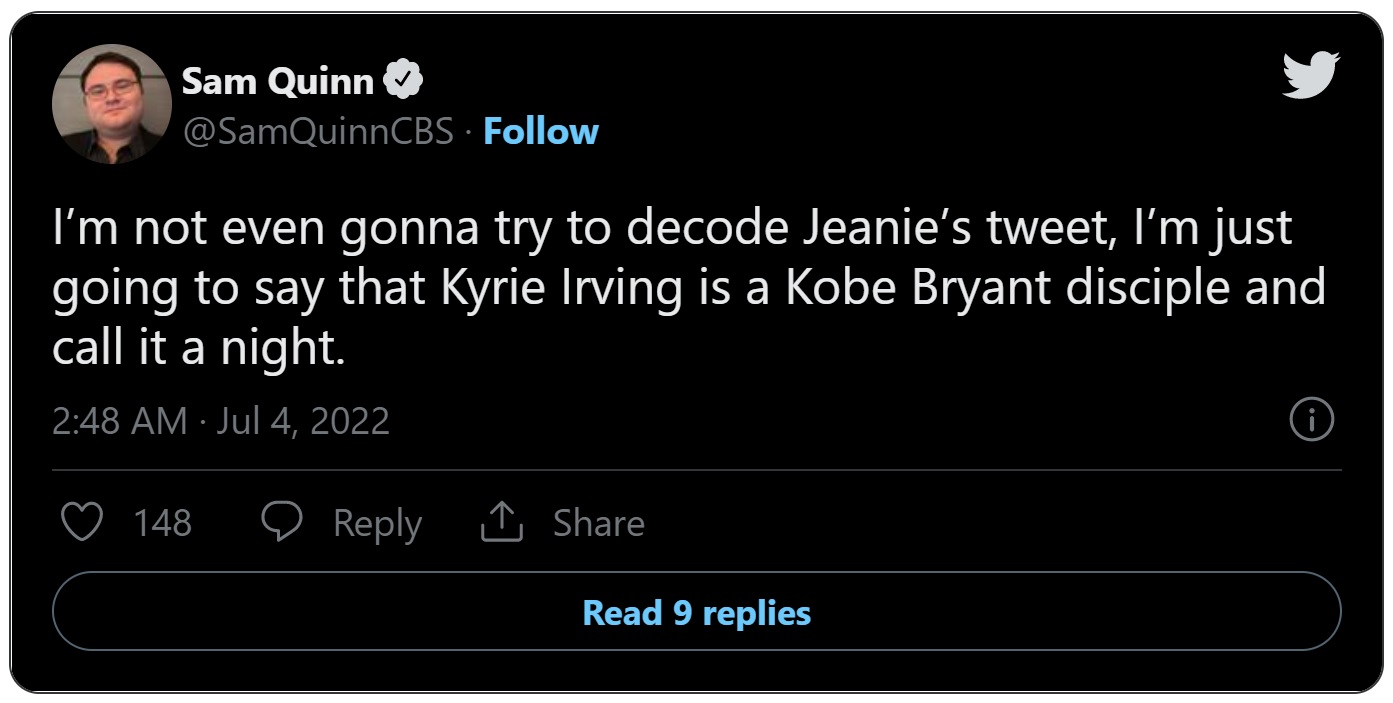 Kyrie Irving has often talked about how much Kobe Bryant meant to him on and off the court. Just a few weeks ago he was even talking to fans on Twitch about moments he remember most when they would talk to each other about basketball. It's safe to say Kai is might be somewhere reading Jeanie Buss' tweet saying to himself I got to make this happen.
It's only right that Kyrie Irving wears Kobe Bryant's number in a Lakers uniform. It seems Jeanie Buss is possibly using emotional mind games to help expedite the process. Has the operation to make Kyrie Irving mentally feel like Kobe began? If so that tweet was a very clever way to begin the process.