It's been a crazy week for hip-hop with the RICO indictment that hit Gunna, Young Thug, and other YSL members. Now there is tragic news concerning another YSL member who wasn't indicted in the RICO case. According to reports Lil Keed is dead at age 24, and rumors about how he died are sparking conspiracy theories about YSL.
How Did Lil Keed Die?
At the moment Lil Keed's cause of death has not been confirmed. Some reports are saying he died from liver failure, while other reports allege Lil Keed was shot dead. Due to all the unconfirmed rumors that he was murdered the question of who killed Lil Keed fueled a viral YSL conspiracy theory.
Did Lil Keed Snitch on Young Thug's YSL? Rumor Lil Keed was Killed Fueled a YSL Assassination Conspiracy Theory
Lil Keed was signed to YSL and 300 Entertainment. Just this week 28 members and associates of the YSL label including Young Thug were hit with a RICO indictment. Lil Keed was the only publicly known member of YSL that was still free. People find it strange that now news is coming out that Lil Keed is dead. One theory is that YSL is under attack, while another theory is that YSL killed Lil Keed, because he snitched. Both of these theories are based on the rumors that he was shot dead, which as aforementioned hasn't been confirmed yet. Even before his death some people believed Lil Keed snitching on YSL was why FEDS didn't arrest him.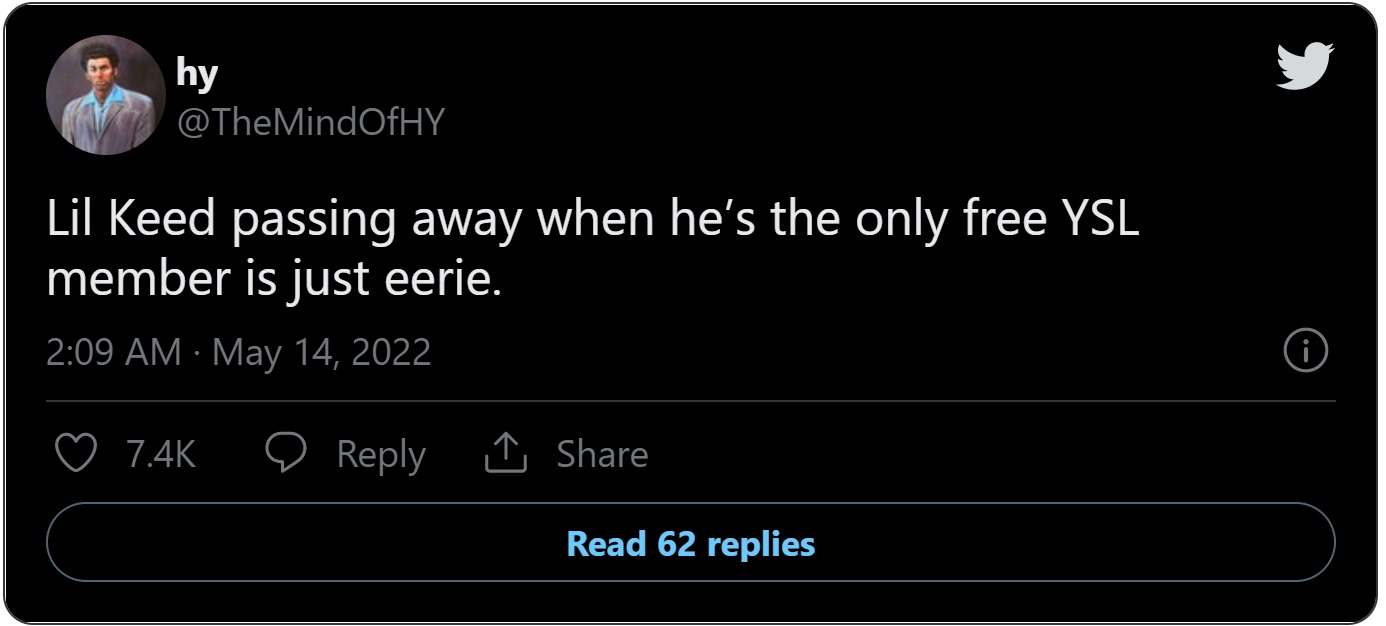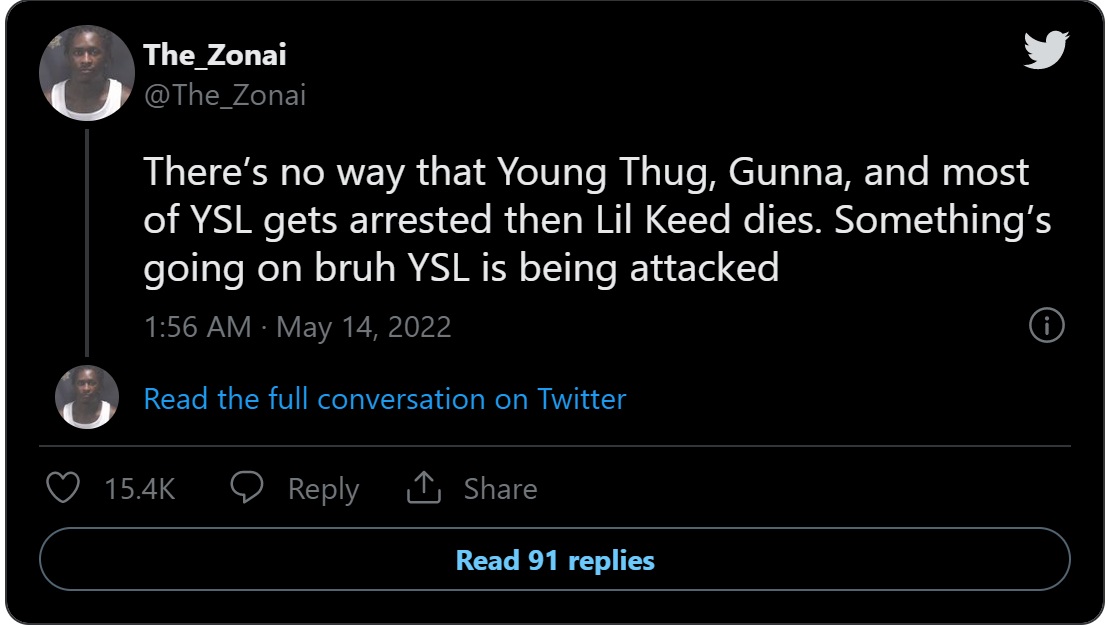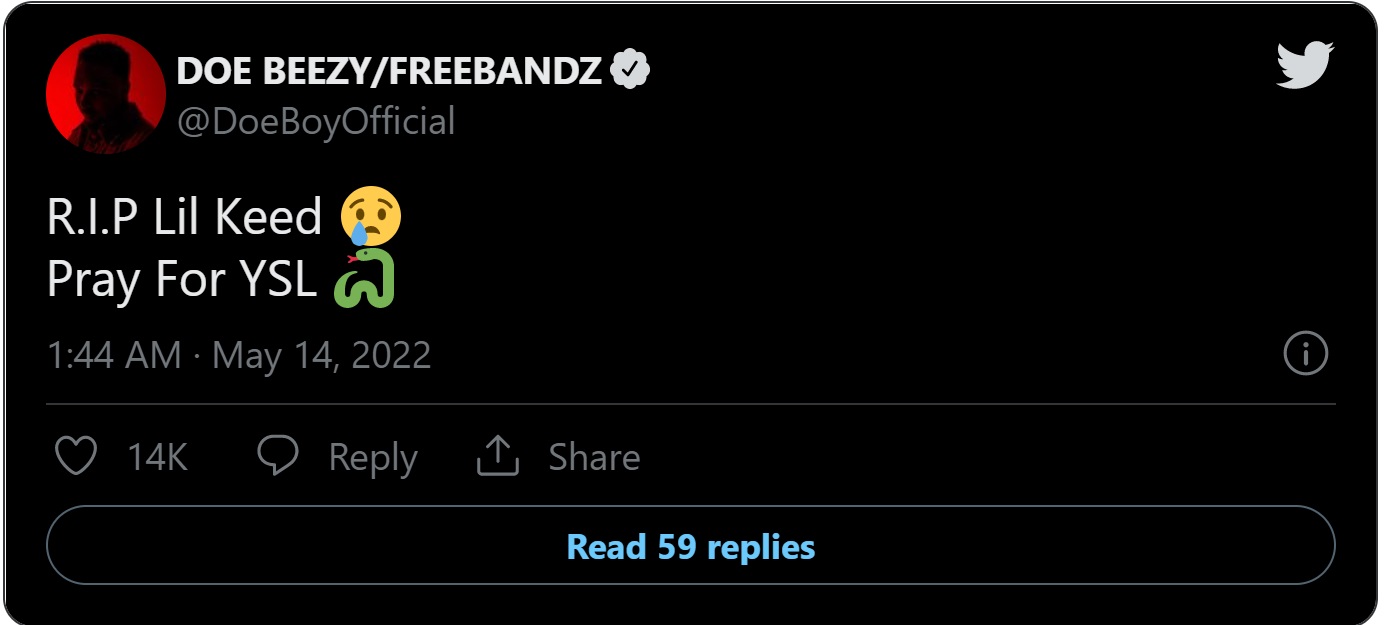 Lil Keed's Legacy in Hip-Hop
Lil Keed hailed from Atlanta Georgia where his passion for music ultimately led to him meeting Young Thug. As one of YSL's most popular upcoming artists the release of his well renowned album 'Trapped in Cleveland 3' really pushed him into the spotlight. It's sad how his career ended at a time when he was peaking talent wise.
It would be so tragic if Lil Keed was murdered in connection with the RICO case YSL is facing. It doesn't seem likely that Lil Keed snitched, but it is eye opening how fast the entire group was wiped out in the span of a few days, which leads people to believe conspiracy theories that someone was giving FEDS insider information. For example people are also convinced that YFN Lucci snitched as well.
Hopefully there was no foul play involved in his death, and it was really from liver failure. The situation is tragic either way, but there's nothing sadder than a human taking another human's life, since we are all aware of how precious life is. RIP Lil Keed, and prayers up for his family.