Bud Light, one of the most popular beer brands in the US, has recently announced a partnership with transgender social media influencer Dylan Mulvaney. Mulvaney, who is best known for the TikTok series "Days of Girlhood", where he documents his transition from male to female, has received a special gift from Bud Light to celebrate his first anniversary of living as a woman.
The gift is a customized beer can with Mulvaney's face on it and the words "Cheers to 365 Days of Girlhood". Mulvaney shared the can on her Instagram account, where he has over 1.7 million followers, and expressed her gratitude to Bud Light for supporting her and the LGBTQ+ community.
"Bud Light has been such an amazing ally to me and to so many others. I'm so honored and humbled to be their brand ambassador and to represent them in this month of March Madness," Mulvaney said in a video.
March Madness is the annual college basketball tournament that attracts millions of viewers and fans across the country. Bud Light is one of the official sponsors of the event and has launched a campaign called #EasyCarryContest, where participants can win $15,000 by showing how they carry multiple Bud Light cans.
Mulvaney encouraged his fans to join the contest and to enjoy March Madness with Bud Light. He also showed off his impressive carrying skills by holding five cans in one hand while wearing a glamorous outfit inspired by Audrey Hepburn's iconic look in Breakfast at Tiffany's.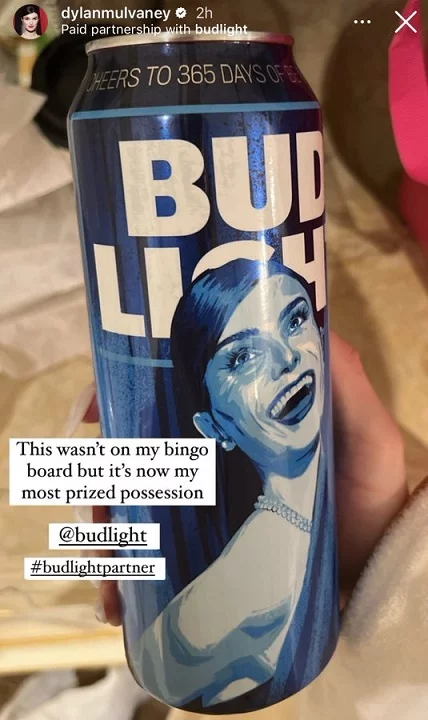 How Social Media is Reacting to Bud Light Teaming Up with a Transgender Woman
The announcement of Bud Light's partnership with Mulvaney has sparked mixed reactions on social media. Some praised the beer company for being inclusive and progressive, while others criticized it for being "woke" and alienating its traditional customers.
Some of the positive comments included:
"This is awesome! Congrats Dylan! You are such an inspiration and a beautiful woman. Bud Light rocks!"
"I love this so much! Bud Light is my new favorite beer. Cheers to you Dylan and to all the trans people out there!"
"This is history in the making. Bud Light is showing that they care about diversity and representation. Dylan is a perfect choice for their brand ambassador. She is funny, smart, and gorgeous."
On the flipside some of the negative comments included:
"Bud Light has lost me as a customer. They are pandering to a tiny minority and ignoring their loyal base. I'm switching to Coors."
"This is an insult to women everywhere. Bud Light is promoting a false and harmful idea of womanhood. Dylan is a biological male who can never be a real woman."
Bud Light has not responded to the backlash yet, but it seems that they are confident in their decision.