On Tuesday morning, police responded to a call for shots fired at the home of Cincinnati Bengals running back Joe Mixon in West Chester Township, Ohio. According to reports, one person was taken to the hospital with a gunshot wound to the leg, and an active investigation is underway.
Police Put Yellow Crime Scene Tape around Joe Mixon's House on Live News as His Sister Shelonda Speaks Out Claiming his Innonence
The incident sparked a media frenzy as news helicopters captured live footage of Mixon's house being taped off with crime scene tape and surrounded by police vehicles. According to the live report from Fox News, police were heard banging on his front door telling him to come outside. The initial reports suggested that Mixon was involved in the shooting that left a teenager injured.
However, according to Philip Lewis, Joe Mixon's sister Shelonda spoke out claiming that her brother had nothing to do with the shooting. Some reports suggest that the victim was a friend of her brother who had stayed over at his house after celebrating his birthday on Monday night. Police have not confirmed how the shooting happened, but some unconfirmed rumors floating around suggest that someone possibly drove by and opened fire at the house.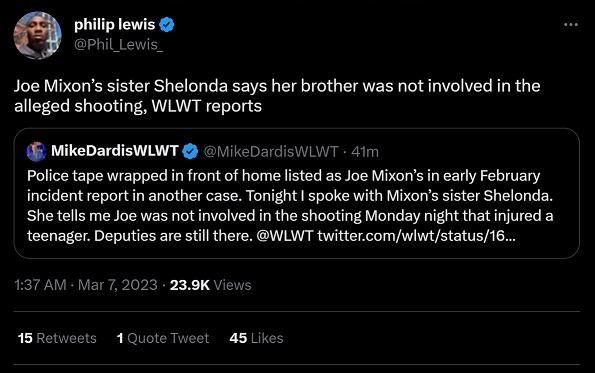 Joe Mixon Broke a Woman's Jaw in 2014
Mixon, 26, is one of the top running backs in the NFL and signed a four-year contract extension with the Bengals worth $48 million in 2020. He has been with the team since 2017 when they drafted him in the second round out of Oklahoma. However, he has also faced controversy and criticism for his off-field issues. In 2014, he was suspended for a year from Oklahoma after he punched a woman in the face at a restaurant, breaking her jaw and cheekbone. He later apologized and settled a civil lawsuit with her.
The Bengals have not commented on the shooting incident involving Mixon's home or his status with the team. His sister Shelonda's claim could be a sign that he might not get in any trouble, but the investigation is still ongoing. Hopefully the teenager makes a full recovery. Bengals fans are sweating bullets right now no pun intended.