Victor Wembanyama, the 7-foot-4 phenom who was selected by the San Antonio Spurs with the first pick of the 2023 NBA draft, has surprised his fans with a drastic change in his appearance. In a photo posted on Instagram, it was revealed that Wembanyama dyed his hair blonde and purple, and now looks like a twin of Sochan, who also sports a colorful dyed haircut.
The photo, which shows Wembanyama smiling ear to ear with his new blonde avatar looking hairstyle, quickly went viral on social media, where people were making jokes about him hanging out with Sochan a bit too much, and 2K would having to make an emergency update on his character to match his new hairstyle before 2K24 is released in a few weeks.
Wembanyama, who is widely considered to be the most promising prospect of his generation, has not commented on his new look yet, but he seems to be enjoying himself with his friend and fellow rookie Sochan. The two players are hoping to develop a strong chemistry on and off the court, and matching hairdos can do that.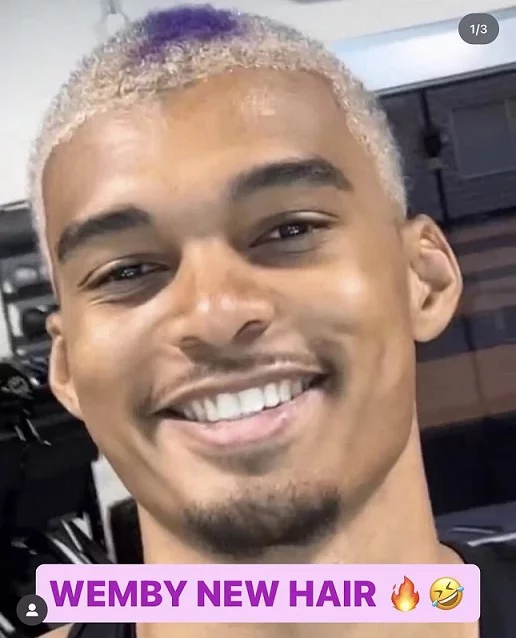 He looks like a completely different person with the new hair color.
Wembanyama, who is originally from France, and Sochan, who is of Polish-American descent, are both expected to make an immediate impact for the Spurs in the upcoming season. Wembanyama is a versatile big man who can dominate on both ends of the floor with his size, skill, and athleticism. He averaged 21.6 points, 10.4 rebounds, 2.4 assists and 3.0 blocks per game in France's LNB Pro A league last season, becoming the youngest regular-season MVP in league history.
Hopefully the new hair doesn't impact his game negatively.