Bam Margera, the former star of MTV's Jackass and Viva La Bam, is wanted by the police in Pennsylvania after an alleged assault on his brother. According to the Pennsylvania State Police, Margera, 43, was involved in a physical confrontation with a victim in Chester County on Sunday morning, causing minor injuries. Margera then fled into a wooded area before the police arrived, and has not been located since.
More Details About Why Bam Margera is on the Run From Police
An arrest warrant has been issued for Margera, who is facing four counts of terroristic threats and one count of simple assault. According to rumors floating around social media the victim was his brother, and Margera also threatened to kill his own family. The arrest warrant was issued by District Court 15-3-04 in Kennett Square, and police have asked people knowing about his whereabouts to contact PSP Avondale at the non-emergency number 610-268-2022.
This is not the first time Margera has been in trouble with the law or had personal issues. In 2021, he sued Paramount, Johnny Knoxville, Spike Jonze and Jeff Tremaine, claiming that he was illegally fired from Jackass Forever, the fourth installment of the Jackass film series. He alleged that he was coerced into signing a wellness agreement that required him to take frequent drug tests and that he was terminated after testing positive for Adderall, which he said he needed for his attention deficit disorder. He later requested a dismissal of the case in 2022.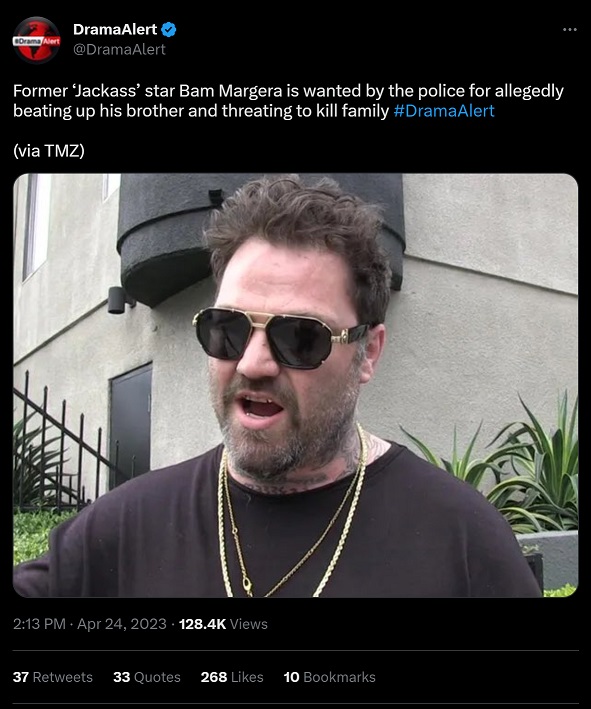 Margera has also struggled with substance abuse, and mental health problems for years. He has been in and out of rehab several times and has posted erratic videos on social media, expressing his anger and frustration with his former friends and colleagues. He has also admitted to having suicidal thoughts and self-harm tendencies. Some people theorize that his current ordeal could be related to side effects from his medications.
Margera rose to fame in the early 2000s as a professional skateboarder and stunt performer, who created and starred in the CKY video series and later joined the Jackass crew. He also had his own spin-off shows, such as Viva La Bam and Bam's Unholy Union, and directed two films, Haggard and Minghags.
Margera's fans and supporters have expressed their concern and sympathy for him on social media, hoping that he can get the help he needs and overcome his challenges. Hopefully he doesn't harm himself, or anyone else before the cops find him.