Taylor Swift is no stranger to dating rumors, but the latest one involving NBA star Austin Reaves has left many fans scratching their heads. According to a report from the Twitter account "HoopMixOnly", Swift was seen at an Arkansas bar with Reaves over the weekend, just hours after her breakup with 1975 band member Matt Healy was confirmed.
The tweet, which has since gone viral, claimed that Swift and Reaves were spotted together at a local bar in Arkansas, where Reaves grew up and still has family. The tweet also included a photo of the two celebrities side by side, but no other details about their alleged time together such as an actual picture of their date night.
The rumor was fueled by the fact that Swift had recently split from Healy, whom she had been dating for some months. The two musicians had met in 2014 and reconnected earlier this year, when Healy joined Swift on stage at her Eras Tour show in Nashville. However, their romance reportedly fizzled out after Healy was allegedly caught kissing a security guard at his own concert in Denmark.
Swift, who is known for writing songs about her exes, has not commented on the rumor or her breakup with Healy. However, some fans have speculated that she might address the situation in a future album. Maybe now she will included some lyrics about the Lakers blooming superstar. Take a look at the tweet that made the rumor of Austin Reaves smashing Taylor Swift go viral.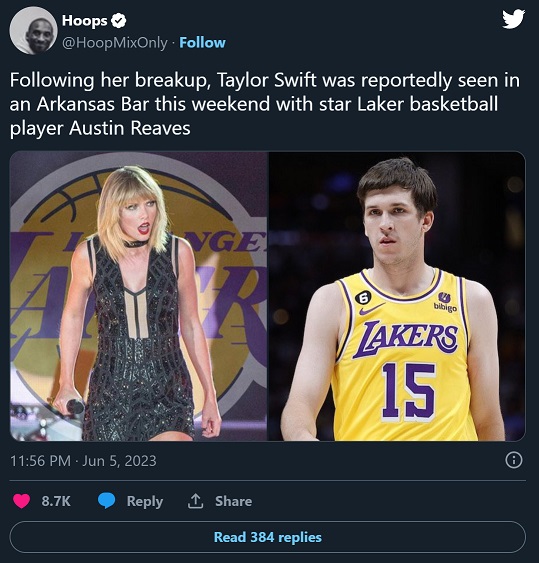 Is Austin Reaves Dating Taylor Swift a Bad Sign for His Future with the Lakers?
Reaves, on the other hand, has also remained silent on the rumor. The 25-year-old basketball player is currently playing for the Los Angeles Lakers, and had a breakout season with the Lakers. He also helped the team reach the Western Conference Finals, where they were swept by the Denver Nuggets. He will be looking for a massive contract, and definitely deserves one. Some Lakers fans are worried that if Austin Reaves is dating Taylor Swift, it could make him join a team that allows him to see her most often, or make him become too "Hollywood".
Taylor Swift Is Being a Called a Cougar
While some fans have expressed excitement over the possibility of Swift and Reaves dating, others have dismissed the rumor. Some have even called Taylor Swift a "cougar", since she is eight years older than Reaves, who has aforementioned is 25.
As of now, there is no confirmation or denial from either Swift or Reaves about their alleged relationship. Until then, fans will have to wait and see if the rumor is true.