Westside Gunn continues to have one of the most controversial album series names in Hip-Hop with references of Adolf Hitler, the most infamous Jew mass murderer of all time. There have been multiple reports detailing how Jewish music executives weren't comfortable with the release of his new HWH8 album. Now his album cover is going viral again, because of strange placement of billboards in New York.
Westside Gunn HHW8 Hitler Album Cover Next to End Jew Hate Billboard??
When you're driving by the Platinum Dolls Gentleman club in New York, if you look up you'll see Westside Gunn's Hitler Album Cover next to a End Jew Hate Billboard. HwH8 stands for "Hitler wears Hermes: Sincerely Adolf".
That Hitler reference from Westside Gunn's album cover is next to a Jewish billboard referencing Hitler's atrocities during Holocaust saying,
We're just 75 years since the gas chambers. So no, a billboard calling out Jew Hate isn't an overaction #EndJewHate".
Was this by design, or just a strange coincidence? Take a look.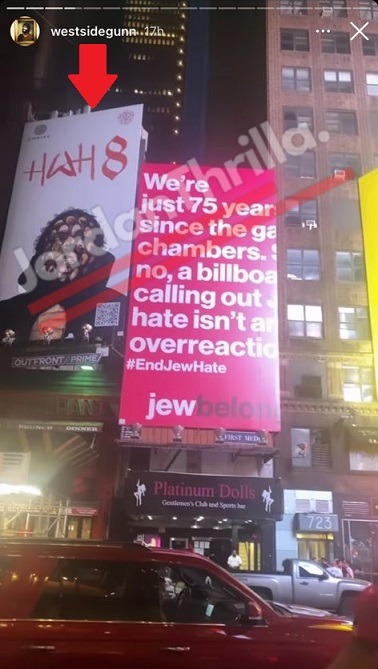 Can you imagine how Jewish people feel riding past that section of the street? You got Westside Gunn's Hitler album cover next to an End Jew Hate Billboard, right over an adult dance club. That's a very strange mix of vibes. That's New York for you though.
Author: JordanThrilla Staff