Netflix has released its latest original movie, "They Cloned Tyrone", and it is already generating a lot of buzz on social media. The film, directed by Juel Taylor and starring John Boyega, Jamie Foxx and Teyonah Parris, is a pulpy mystery caper that follows an unlikely trio as they uncover a sinister government conspiracy involving cloning.
Social Media Reviews of "They Cloned Tyrone" are Going Viral
The film has been praised for its witty dialogue, clever plot twists and stellar performances by the lead actors. Many viewers have called it a masterpiece of sci-fi comedy, and it currently holds a 98% score on Rotten Tomatoes. Here are some of the reactions from Twitter users who have watched the film:
@iamkingmonye: I enjoyed this one. A drug dealer lives a series of deja vu life, not knowing he's being cloned after he's being killed. An event leads to him, a pimp and a hoeee teaming up to find out what, and who is behind it. Personal Rating: 7.5/10
@strongblacklead: "Watching Jamie Foxx & John Boyega together is a delight".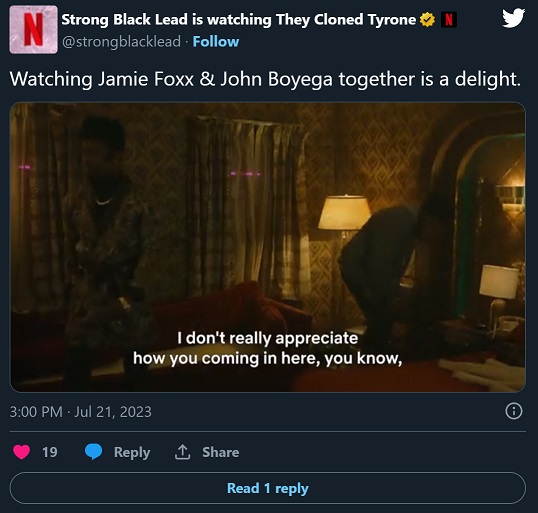 @ninaserafina: I am as excited for Barbie and Oppenheimer as anyone but please when you have some time watch THEY CLONED TYRONE which just dropped Netflix. It's a masterpiece I promise.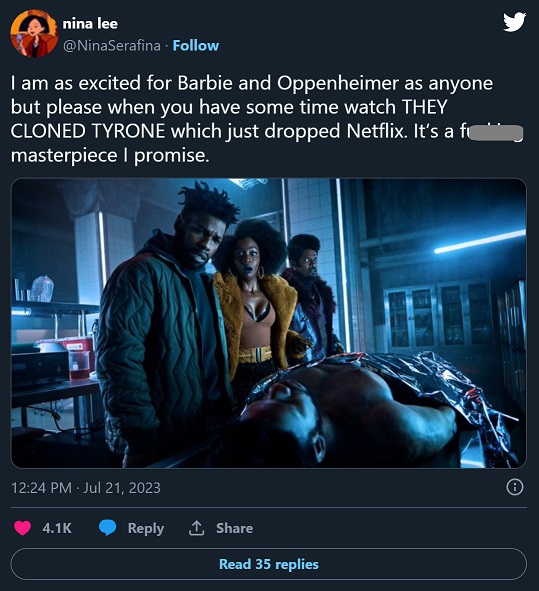 Rotten Tomatoes has given "They Cloned Tyrone" a 98%, but if you're like me, then you trust the reviews of random people moreso than corporate company reviews. Luckily in this case everyone is saying the movie is good.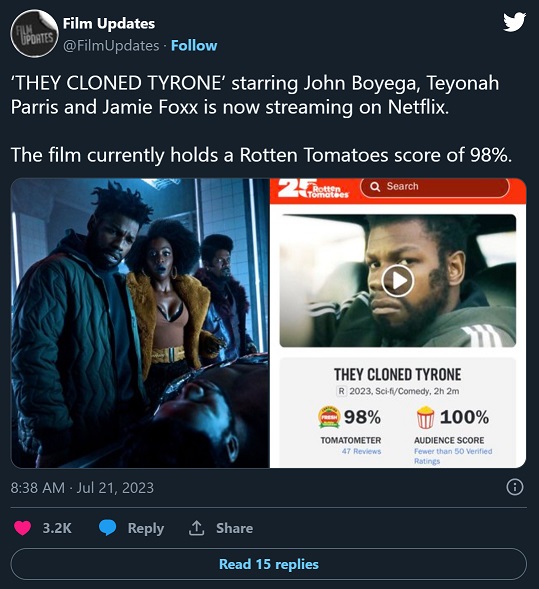 What is "They Cloned Tyrone" About?
According to the official synopsis from Netflix:
A series of eerie events thrusts an unlikely trio onto the trail of a nefarious government conspiracy in this pulpy mystery caper. John Boyega plays Earl, a hustler who is haunted by the death of his younger brother and wants to get out of the game. Jamie Foxx plays Alfonso, a former entrepreneur who has fallen on hard times and is looking for a way to make some money. Teyonah Parris plays Bree, a pro who works for a mysterious client and has a knack for solving mysteries.
The three of them cross paths when Earl discovers that his apartment building is the site of a secret cloning facility run by the government. He teams up with Alfonso and Bree to find out who is behind the operation and why they are cloning people like him. Along the way, they encounter various obstacles and enemies, such as David Alan Grier as a shady landlord, Kiefer Sutherland as a ruthless agent and J. Alphonse Nicholson as a rival drug dealer.
They Cloned Tyrone is a fun and entertaining film that pays homage to classic sci-fi movies like The Matrix, The Terminator and The Sixth Day. It also tackles themes like identity, morality and social justice in a smart and humorous way. The film is the directorial debut of Juel Taylor, who co-wrote the script with Tony Rettenmaier. Taylor said that he was inspired by his love for sci-fi movies and his desire to create something original and fresh.
"They Cloned Tyrone" is now streaming on Netflix. If you are looking for a movie that will make you laugh, keep you on the edge of your seat and blow your mind, you should definitely check it out.