Azealia Banks is back in the news, and as per usual it's not for a good reason. This time her comments about comedian Eric Andre's parents have landed her in controversy. She made a strange comment about the physical appearance of his mom, that really crossed the line in many people's eyes.
Azealia Banks Subliminally Says Eric Andre's Mom Looks Like a Man with Disrespectful Comment on Instagram
This situation started when Eric Andre posted a picture of his parents from 50 years ago with a caption saying,
"Mom and Dad 50 years ago".
The no filter Azealia Banks commented on the photo of Eric Andre's parents saying,
"Who's the mom and who's the dad I'm lost".
In essence Azealia Banks said Eric Andre's mom looks like a man. Why else would she be confused about their gender roles?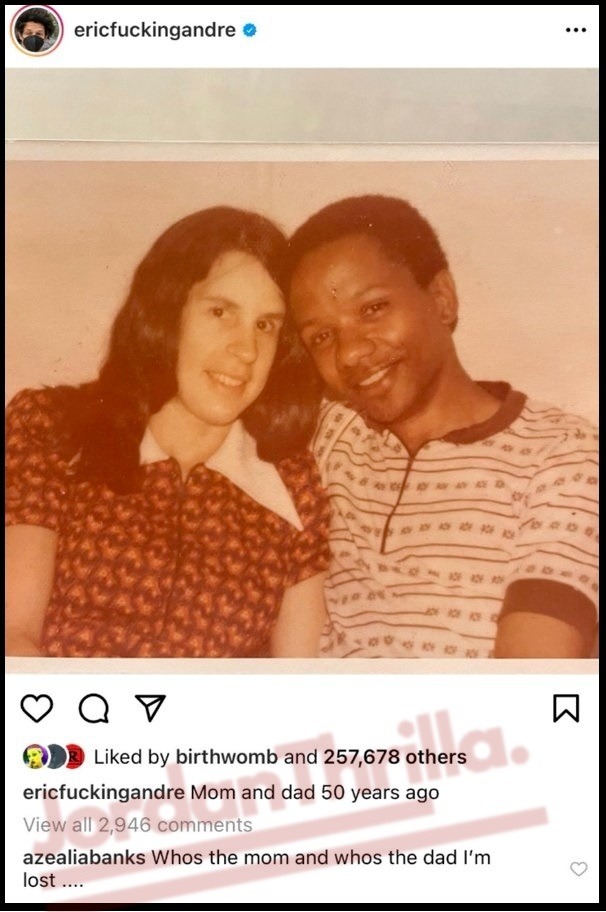 Is Azealia Banks Dissing the Jewish Community By Saying Eric Andre's Mom is a Man?
A lot of people don't know that Eric Andre's mom is Jewish, and his dad is Haitian. As we have all seen in the past when you're in the Hollywood or Music industry making fun of a Jewish person for any reason can damage your career. By insinuating Eric Andre's mom looks like man, Azealia Banks is insulting a Jewish woman.
Below is a video of an interview where Eric Andre revealed his mom is Jewish. Skip to the 40 second mark. He referred to himself as a "strange looking Drake".
Azealia Banks is the queen of saying things that are better left unsaid. Her comments about Eric Andre's parents are way out of line, probably one of the worst controversial things she has said to date.
Eric Andre is a comedian, but even he probably won't like what Azealia Banks said, even if she was joking.