It's no secret that Adult Film Stars go through a lot of emotional distress in life. In many cases the emotional trauma they went through at a young age is what leads them into the adult film industry. Sadly that emotional trauma continues due the natures of that line of work. In life religion can help anyone become a new person, and that includes adult film star Lil Kymchii.
Adult Film Star LilKymchii Finds God in Viral Video then Lil Kymchii Deletes All Her X Rated Videos
Recently a video showed the moment that Adult Film Star Lil Kymchii found God, and became a new woman. In the caption of the video that was first posted on Instagram, LilKymchii detailed how she believed in God as a child, but completely lost her faith as she became older. She described how working in the adult film industry left her physically and emotionally broken. She detailed how she became addicted to vanity, money, drugs, and dark twisted things she can't even write about. When she couldn't take the mental stress anymore she decided to go back home to her family, and visit a church. Within 5 minutes in church Lil Kymchii's life was changed forever. Now that LilKymchii found God she now longer battles stress, depression, and anxiety. In addition Lil Kymchii has deleted all her adult videos from her social media pages. Take a dive into the message she left on her Instagram page, and footage of Lil Kymchii finding God again.
Here is the message she wrote on Instagram:
'So this can be taken a certain way by everyone by me sharing this and I know I will be judged from even sharing this, but this is the story from yesterday, it was one of the most impactful days I have ever had in my whole adult life. I was a believer as a child growing up but lost complete faith the more and more I started living in Los Angeles, I've been here for 12 years and it's been the hardest years of my life from people hurting me to personal life decisions and over this time I have been mentally emotionally and physically broken, I fell into the industry we all know I have been in, and there are reasons why it happened that I can explain if people have questions, but within this time I have dabbled into dark things and became obsessed with vanity, money, people giving me attention, drugs and alcohol addiction all the time.'
She continues,
'This life style that I thought was going to make me happy, but at the end of the day none of this made me happy and everyday I became more tortured mentally than ever before and I couldn't take another day living like this, i knew this wasn't Bc I'm crazy I've been going to therapy for years and nothing had changed, I made a call to my family and immediately flew out back home Bc we knew this was spiritual warfare. Within the first moments of stepping into church I broke down in 5 minutes we then went into another room and within moments I went through things that were so intense and supernatural for about and hour and a half after we went through prayer we went to another prayer group and had been fighting for my soul to be cleaned again.'
'I felt free for the first time and I told the pastor that moment I was ready to be reborn and baptized and we did it. I'm a child of God again and he is moving through me already in ways I never thought would be possible the fear anxiety stress and OCD I had lived with for so long is finally gone and I feel so much peace. I know we are humans and we will always make mistakes but we are children of God and he is calling for his children to come back to him. Blessing to all of you and thank you for everyone showing me love through this.'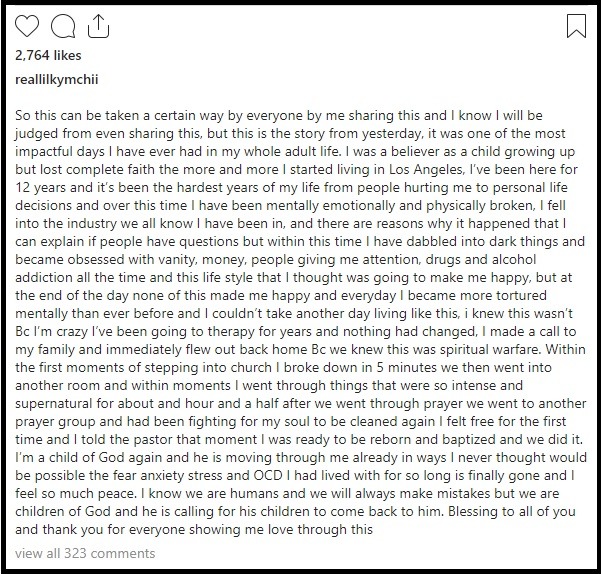 Here is the footage of a preacher dipping Lil Kymchii in Holy Water that is believed to wash away sins.

The power of religion can have a profound affect on people who are going through the worst situations in life. In fact you could argue that having faith in God is one of the most powerful suicide prevention techniques.
It's not often you see footage of an Adult film star finding God, so that video will be very inspirational to others like her. Congratulation to LilKymchii on finally finding some clarity in her life, and beating those demons that have been haunting her.