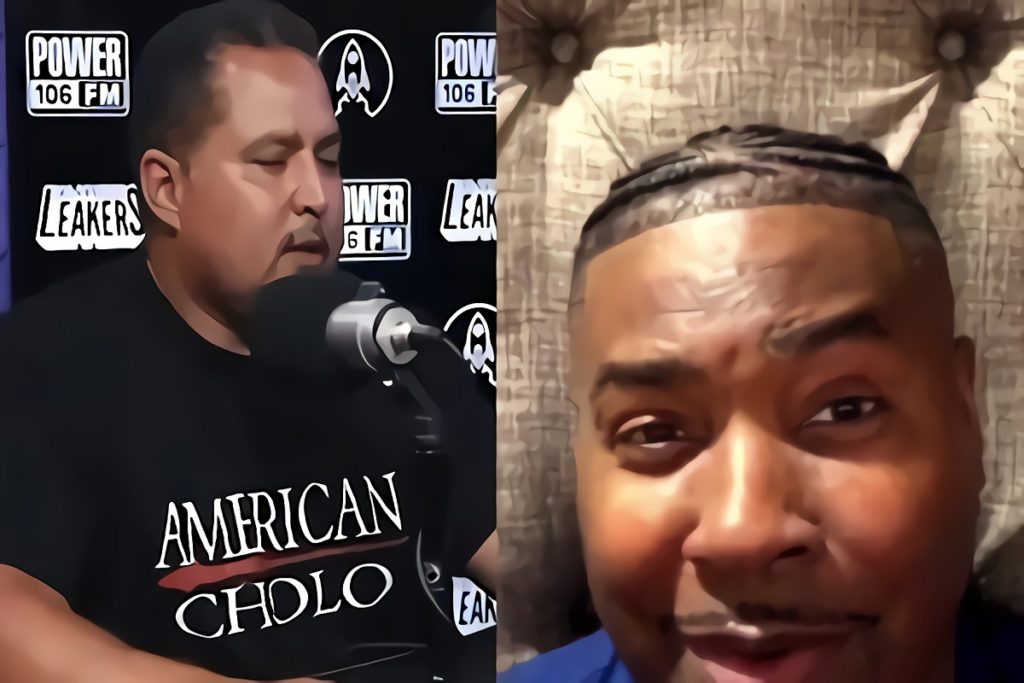 Recently Tyga was caught in controversy after releasing a strange music video the Mexican community found racist, and generally offensive. To quell the situation Tyga apologized on Power 106 LA, but the host he apologized named American Cholo was exposed for making racist remarks about black people in the past. Now Tariq Nasheed is threatening to action by showing up to the radio station.
Will Tariq Nasheed Fight Power 106 LA Host American Cholo Over Racist N-Word Rant? Tariq Nasheed Power 106 Announcement Goes Viral
Recently Tyga released a video called 'Ay Caramba', which was seemingly full of Mexican stereotypes. For example he dressed up in a fat suit, and pretended he ate tortilla chips with dip all day long. Also he had Tortilla chips falling the from sky throughout the video. On the surface it was easy to see why Mexican people felt the video was making fun of their culture. As result the Mexican people accused Tyga of cultural appropriation. Tyga went on Power 106 LA to make the apology statement below.
As you can see in the footage above Tyga's Ay Caramba apology was made to the Power 106 LA host named American Cholo. Shortly after Tyga's Ay Caramba apology went viral, old footage surfaced of American Cholo's racist rant using the N-word racial slur, and calling black people 'ghetto coons'. After witnessing the video many people on social media thought Tyga apologized to a racist man on Power 106 LA, which is ironic considering what he was apologizing for. Naturally this led to much backlash as to why Power 106 LA was giving a platform to a man who made racist remarks about black people.
In response to the situation a viral tweet revealed social justice activist Tariq Nasheed is pulling up to Power 106 LA today to confront them over the situation at hand. In his statement he wrote, "the community is Pulling Up outside Power 106 LA radio station in Los Angeles tomorrow (Weds. Aug. 3rd) to call them out for giving a platform to anti-Black racists. If you are in LA, everyone come through".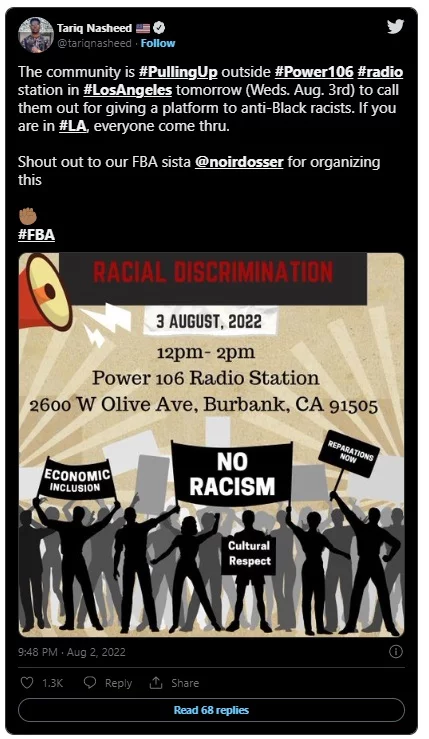 There's no telling what might go down when everyone pulls up to Power 106 LA, but some people are convinced that Tariq Nasheed fighting American Cholo over his racist remarks could be a possibility.
The big question is how will the owners of Power 106 LA respond to this situation? Will they suspend or fire American Cholo, or continue allowing him to have a platform on their radio station network despite the backlash? Only time will tell.