With the news of 8 people dead from a possible Terrorist attack at Astroworld Festival in Houston, many angry people turned their frustration towards what they felt was lack of empathy shown by Travis Scott and Kylie Jenner. It all started when Kylie Jenner posted an Instagram story from the concert completely ignoring the fact that an ambulance was seen driving through the crowd. Recently she responded to the backlash, but people aren't buying what she's selling.
People Accuse Kylie Jenner of Lying About Not Knowing People Died During Astroworld Festival Terrorist Attack After Video Surfaces of Travis Scott Continuing to Perform In Front of Dying Fans
Kylie Jenner released a lengthy statement on Instagram stating that she and Travis Scott were unaware that people died during Astroworld Festival until they read news after the show. However, people pointed out two pieces of evidence that make it seem like she's lying to save face.
Firstly they pointed out that the ambulance is easily spotted in Kylie Jenner's Astroworld Festival Instagram story, which seems very hard to miss. Secondly a video of Travis Scott continuing to perform in front of a dying fan was also posted as evidence. In that video it appears Travis Scott is looking directly at the dying fan being attended to by a plethora of police officers, but it could just be the angle..
First take a look at Kyle Jenner's Astroworld Festival statement about the 8 people that died. In her full statement she wrote,
"Travis and I are broken and devastated. My thoughts and prayers are with all who lost their lives, were injured, or affected in anyway by yesterday's events. And also for Travis who I know cares deeply for his fans, and the Houston community. I want to make it clear we weren't aware of any fatalities until the news came out after the show, and in no world would we have continued performing."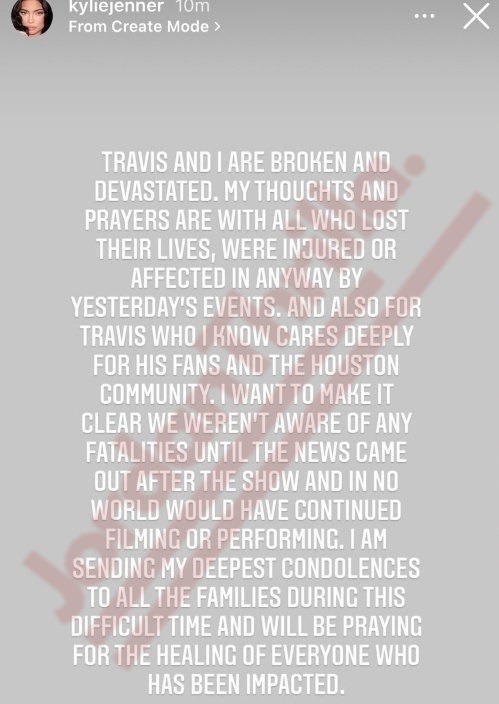 Here is Kylie Jenner's Astroworld Festival IG story where you can clearly see the ambulance driving the crowd.
Now here is the video of Travis Scott performing in front of a dying fan at Astroworld Festival. It seems like there is no way he couldn't have seen all the cops attending to the lifeless body, but maybe he didn't. It's also possible he didn't realize the fan was dead.
Details on how a Possible Astroworld Festival Terrorist Attack Led to 8 People Dying After the Terrorist Injected People with Drugs
According to police reports around 9 pm the Astroworld Festival crowd of over 50,000 people began to scramble towards the front of the stage where Drake and Travis Scott were performing. In the midst of the chaos 11 people went into cardiac arrest, and 8 of them died. An alleged report from TMZ insinuates that there was a terrorist injecting people with drugs at Astroworld Festival, which led to the panic that started all the commotion.
During a police press conference it was announced the possible Astroworld Terrorist injected a Houston police officer with the drug, which caused him to collapse. They saved his life using Narcan, which indicates a high dosage of cocaine, crack, or fentanyl was in the syringe the Astrowold Festival Terrorist was using during the attack. It still hasn't been confirmed if the drug inside the injections caused the people who died to go into cardiac arrest.
A lengthy testimony from a attendee at Astroworld Festival paints a detailed picture of the timeline of events.
Although most people feel Kylie Jenner is lying about not knowing people died during Astroworld Festival, she doesn't seem like the kind of person who would completely ignore something like that happening. However, the video of Travis Scott continuing to perform in front of dying fans seems to convey he probably knew something was wrong, but probably didn't realize jut how serious the issue was.
It's tough to just stop performing when you know people a millions invested in you performing, but sometimes you have to do the right thing. Hopefully they truly didn't know what was happening until after the show was over.
Author: JordanThrilla Staff