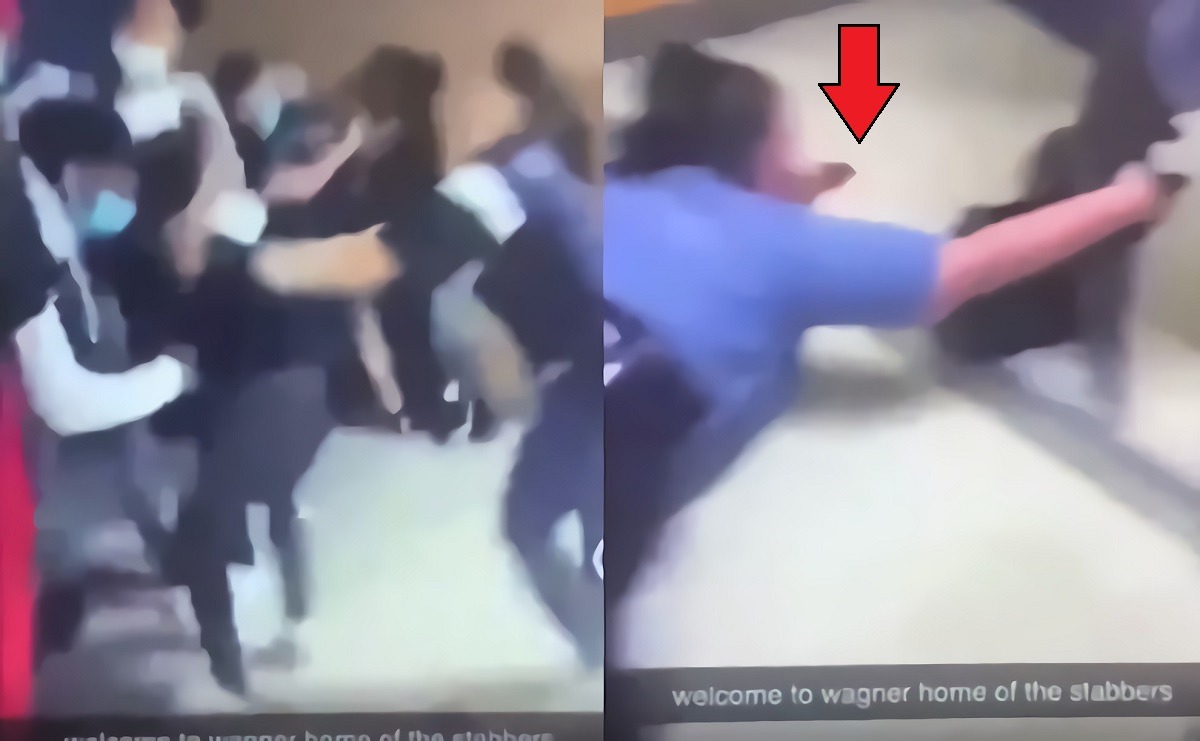 A massive brawl at Susan Wagner High School in Staten Island allegedly led to a student getting stabbed, and the school Dean getting injured. In the footage there was only one security guard trying to handle several students, which led to accusations of why the school was short on security staff.
What Started the Massive Fight at Susan Wagner High School in Staten Island?
According to reports the fight between students at Susan Wagner High School started when a 14 year old girl began arguing with another student. The 14 year old girl was holding a knife when they began fighting, and vital red fluid could be seen on the hallway floor during the brawl.
In the video of the fight you'll see there was only one security guard, and a teacher trying to stop the fight, but they were clearly overwhelmed. Two kids were able wrestle the security guard, making her fall to ground before they continued fighting. There are allegations that due to New York Vaccine mandates Susan Wagner High School was short on security staff, because they were fired for refusing to get vaccinated. Below you'll see what Joe Borelli had to say about this sad incident that left students and staff injured.
Joe Borelli reacts to fight at Susan Wagner High School
In reaction to the fight Joe Borelli asked the NYC Mayor if Vaccine Mandates caused Susan Wagner High School to be short on security staff that could have quickly ended the brawl, saving students and the Dean from getting injured. In his message he wrote,
"@NYCMayor – I demand to know what happened at Wagner HS today and whether or not they were short of School Safety Agents due to the vaccine mandate? God help those agents and staff trying to intervene. Just a preview of what the vaccine mandate will look like when it affects all city workers."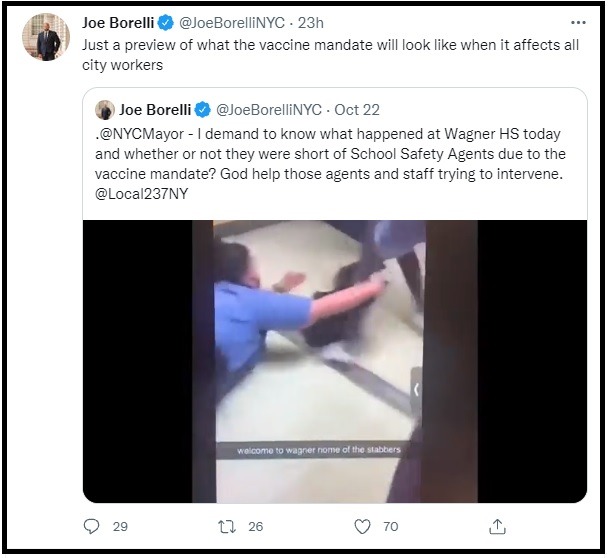 Although the 14 year old girl in the video has a knife, and vital red fluid is seen on the Hallway floor, school officials from Susan Wagner High School claim no one was stabbed during the fight. Reports say the red fluid on the floor was coming from a student's possibly broken nose. However, there are still rumors on social media that a student was stabbed. The person who recorded the video also alleges someone was stabbed.
It would be really sad if it really was the vaccine mandate that put those students, teachers, and security guards in a dangerous situation without the proper amount of staff to stop it soon enough.