The Barbie movie in development featuring Ryan Gosling and Margot Robbie has been all the rage on social media. The movie has piqued the interest of both men and women who are eager to see how Hollywood producers will make the movie interesting enough for adults, while also being able to capture the attention of young kids. However, today when new photos from the set of movie were released they went viral for a very adult reason.
Was there a Naked Woman in Barbie Movie Set Photo?
Photos from beach scene of the Barbie Movie where Ryan Gosling and Margot Robbie wore matching neon outfits perfectly captured the 90s nostalgia the movie is trying to recreate. However, it wasn't the actors that caught the attention of social media, it was a random woman in the background and apparent lack of clothing.
As you'll see in the photo it appeared the was a nude woman on set of Barbie movie set just taking pictures. However, on closer look the woman had on a nude bathing suit the same color as her skin. Some people thought she looked like a naked Barbie, which is a bit ironic. Pay close attention to the right side of the photo below.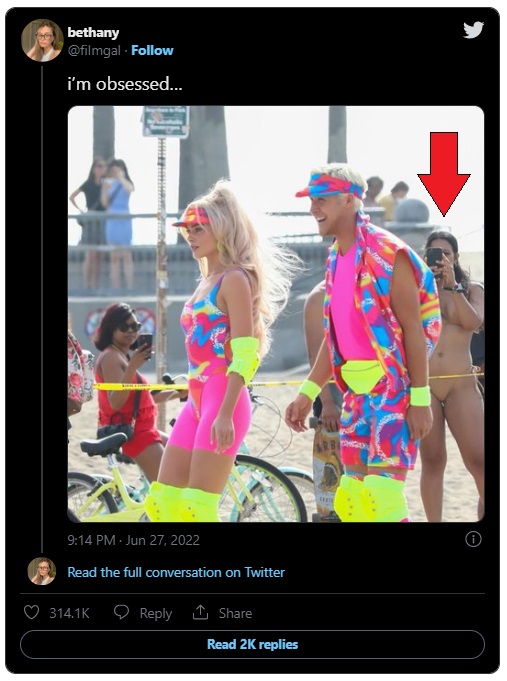 Social Media Reacts to "Nude" Woman on Barbie Movie Set
With most people convinced at first glance the woman was naked during Barbie Movie recordings the reactions were hilarious as they pondered if anyone else thought the same thing when seeing the photo for the first time. Some people still think the woman is actually nude.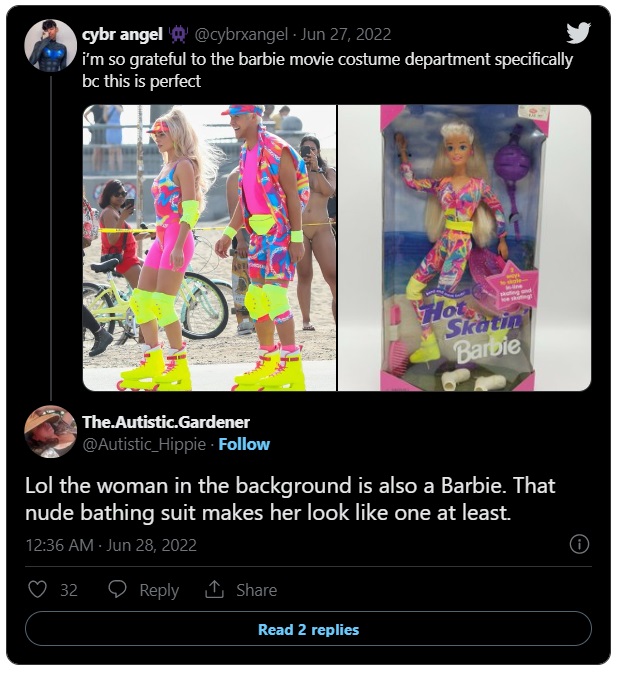 It's almost like that woman knew she would be captured in this Barbie Movie photo when she put on the nude bathing suit. I don't think social media has ever seen the color of a two piece match someone's skin so perfectly. Now she's an internet legend in the making.
The identity of the naked woman at Barbie's movie set is still unknown, but it's safe to say social media is doing their research to find out.