Recently a situation dubbed "trout for clout" went viral after the Tasmanian Police warned anyone who may have a $ex tape video involving intimate use of a trout to delete it, or risk battling legal action. The strange footage, allegedly showed a couple on a boat doing unspeakable things. In the video it's alleged that a woman does $ex acts with a trout species of fish, while another person is watching. A few hours ago a rumor began to spread about the fate of one of the perpetrators.
Details Behind the Rumor that the Trout Video Lady Committed Suicide After Getting Arrested and Charged
According to a viral rumor there are allegedly reports that the trout video woman has committed suicide. It should be noted that this rumor is not confirmed or unconfirmed. In Australia suicide deaths are usually not widely reported on unless it someone very famous. In the days following the leak of the footage RSPCA Australia issued an alert about the video, describing it as "depicting acts of depravity". The police encouraged anyone with the video to delete it immediately, as they made it clear that possession or distribution of this video would be a serious offense.
About 2 days ago reports confirmed that two people in the video were arrested and charged. Bestiality is a serious criminal offense in Australia that can land you in prison for up to 14 years. Some people think that may be the reason the Trout video lady committed suicide if the rumors are true. Others think it may have been the shame of being known for a bestiality video that led to a mental breakdown. As despicable as the footage is described to be, one can only hope this woman didn't take her own life.
What is the Identity of the Bestiality Trout Video Woman?
A business Facebook post identified the trout video woman as vet who used to work at Kingston Animal Hospital. In response to the leaked video, the veterinary clinic in Kingston, Tasmania, which formerly employed the woman featured in the video, released a message on Facebook condemning the incident. In their public statement they wrote, "It has come to my recent attention that an ex-employee of the hospital has recently been the subject of attention by appearing in a video that has been widely circulated on social media".
They continued, "Please understand that this person is no longer a paid employee. Please understand that this person is no longer a paid employee, has not worked at Kingston Animal Hospital for over 5 years, and over 10 years ago as a full-time employee. Any matter relating to disrespect or mistreatment of animals is condemned by all our staff and myself. This story and video are completely unrelated to all current staff".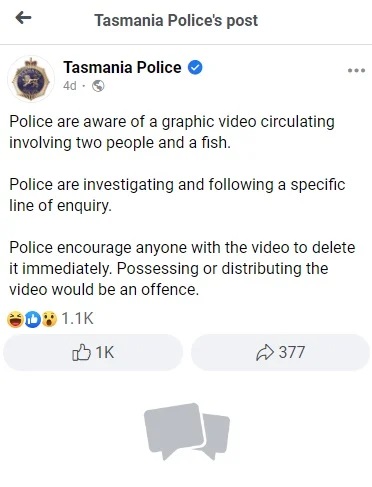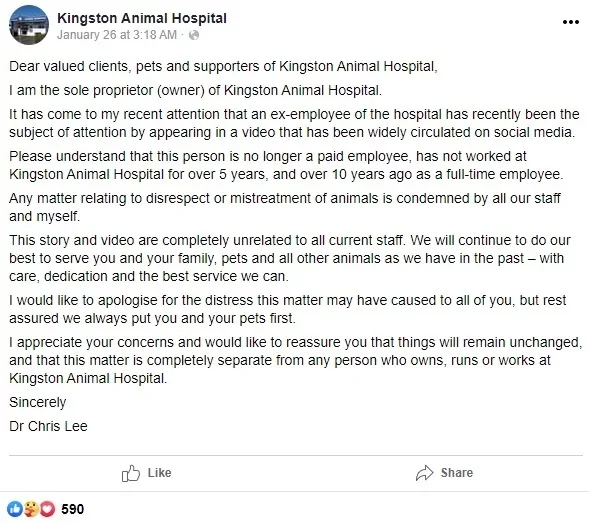 The horrifying bestiality Trout fish $ex tape footage is still viral on Tiktok, Twitter, Reddit, and Instagram. Despite the police warnings it continues to be circulated, showing how fearless some social media users have become in their pursuit to watch the most deplorable things, but to each to their own. It's tough to imagine why anyone would actually want to see this type of footage.
It would be truly sad if in the end the leaked footage led to someone taking their own life. According to CDC suicide is one of the leading causes of death around the world. For example each year in America around 45,000 people die by suicide, which amounts to one suicide death every 11 minutes. In Australia around 3,000 people take their own life each year, which amounts to around 9 suicide deaths per day. Hopefully the Trout video woman isn't a part of that statistic now. We'll update this article once we know more.