Based on shocking new allegations it's possible that OTF Doodie Lo is a gay pedophile. In a viral Instagram post FTN Bae exposed OTF Doodie Lo by telling a horrific story about what allegedly happened to her 5 year old son. The allegations are some of the sickest things you will probably ever hear a famous rapper did.
FTN Bae Accuses OTF Doodie Lo of Molesting Her 5 Year Old Son with Metal Screws Using Leaked Phone Call as Evidence
This story began for FTN Bae about 2 months ago when she claims she noticed her 5 year old son Wesley was pooping in his pants uncontrollably. His condition continued to worsen until she started making him wear diapers. Her world would come crashing down on October 1st when he revealed what was causing his mysterious ailment.
One that day FTN Bae allegedly learned that OTF Doodie Lo sexually assaulted her 5 year old son using metal screws he found in a tool box. She alleges OTF Doodie Lo welded three screws together before shoving them up her son's rectum. The heinous incident allegedly happened on August 6th when she left her son in OTF Doodie Lo's care to do a show.
FTN Bae leaked phone call of her 5 year old son Wesley crying about what OTF Doodie Lo allegedly did to him while she was at her concert. She was betrayed by one of the people she thought she could trust to take care of her son. Took a listen to the evidence behind FTN Bae alleging OTF Doodie is a pedophile.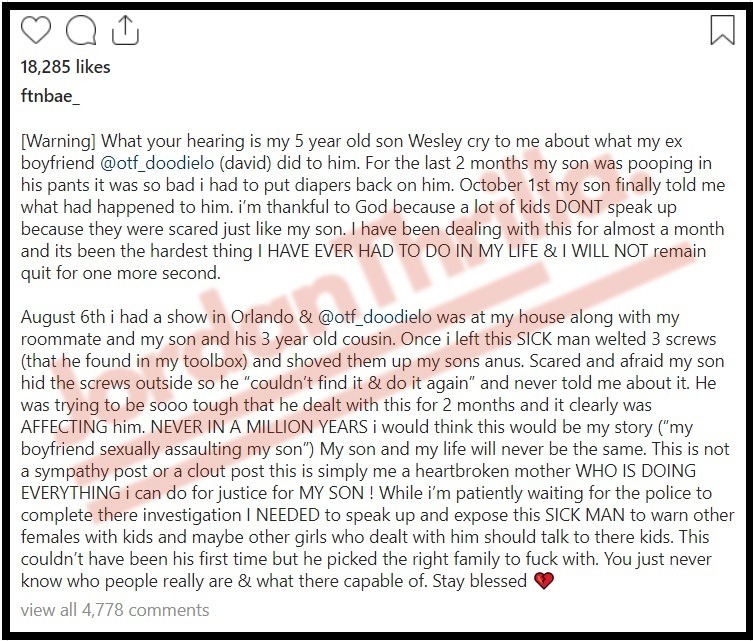 It's crazy to think Lil Durk has close ties with someone who possibly did something that heinous to a small child.
While there's really no way to know at the moment how true FTN Bae's allegations of OTF Doodie Lo molesting her 5 year old son are, this just doesn't seem like the kind of thing a mother would lie about just to spite someone, plus she provided audio evidence.
If what's she saying is true, it could mean OTF Doodie Lo is gay, and a pedophile.
Prayers up for FTN Bae's son Wesley, hopefully he can find away to mentally cope with what OTF Doodie Lo allegedly did to him.
Author: JordanThrilla Staff