This weekend a wealthy black man named Christian Toby Obumseli was found stabbed in his chest at his luxury Miami home. He was taken to the hospital in critical condition, but his life couldn't be saved. The main suspect in his death is his 25 year old OnlyFans girlfriend Courtney Tailor, who is being accused of murdering him. Her lawyer says she is the victim of a domestic dispute, but what happened after the crime may paint a different picture.
Courtney Tailor OnlyFans Leak Happens Shortly After Allegedly Stabbing her Boyfriend Christian Toby Obumseli
Shortly after allegedly stabbing Christian Toby Obumseli, a Courtney Tailor OnlyFans leaked video allegedly started making rounds on the internet according to reports. This video wasn't old, but rather it was a new video she made right after her boyfriend's death. A report from the Sun confirms that footage in the Courtney Tailor OnlyFans leak was made only 24 hours after her boyfriend died on April 3.
Would someone who was the victim a domestic dispute be making adult videos right after something that serious happened? Take a look at the footage below from when police arrested Courtney Tailor for stabbing her boyfriend Christian Obumseli. You'll see that she was covered in his vital red fluid. It's crazy to think that 24 hours later she was back on OnlyFans thirst trapping her subscribers.
She seemed like she really loved her boyfriend, so naturally people are wondering how she could have the emotional energy to be posting on OnlyFans so soon after his death.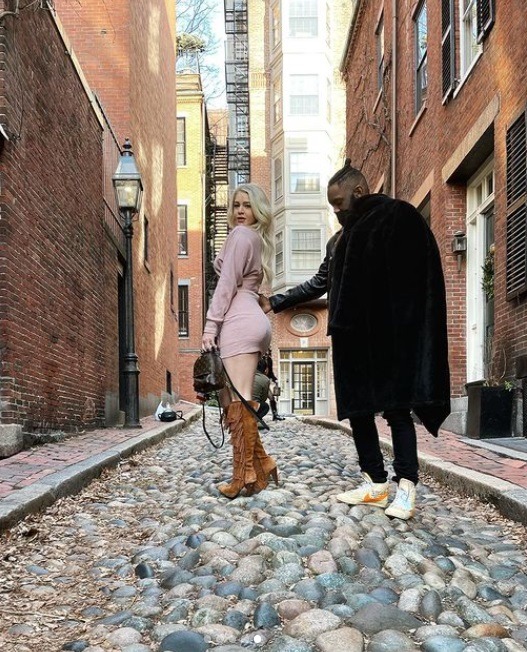 The details behind the footage in the Courtney Tailor OnlyFans leak adds to the controversies surrounding Christian Toby Obumseli's tragic death. There are also racist tweets he made about black women that have went viral on social media as well.
Police haven't officially charged Courtney Tailor with murdering Christian Toby Obumseli, but as the details of the investigation continue coming to light things are not looking good for her case. Was she defending herself, or did she murder him?